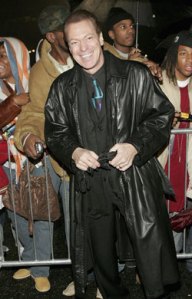 At its annual gala at Cipriani on 42nd Street on Monday, June 16, the Friars Foundation, the charitable arm of the comedians' clubhouse, presented a Creative Achievement Award to legendary singer Frankie Valli, 74, dressed in a woven ecru shirt that "I looked through my wardrobe and found," he told the Transom. We noted his lack of neckwear. "I hate ties," he said. That's O.K., sir—we hate heels!
In attendance: actor Michael Longoria, who plays Mr. Valli in the hit Broadway show Jersey Boys, and Burt Bacharach protégé Steve Tyrell, wearing a black beaded jacket that he quipped came from "a Liberace garage sale."
But the main entertainment was veteran comic Joe Piscopo, who honored Mr. Valli with a reenactment of his famous Frank Sinatra impersonation from Saturday Night Live, which he hasn't done—publicly at least—in over two decades. "We called Lorne Michaels and got Louie Zakarian, the Saturday Night Live makeup genius," he said, looking considerably less buff than in the days when he was denying rumors of steroid use. Veteran songwriter Artie Schroeck from Las Vegas was also flown in for the occasion. "The Friars do it, better than anyone," Mr. Piscopo said. "This is so upscale. Just a classy event."
On the eve of his "49th birthday" (date of birth: June 17, 1951), a single father of four who still lives near his native Passaic, N.J., the 1980s star beamed that he is "just doing great." He's been touring the continent, joking and singing, backed by a jazz sextet, and is planning on visiting Montreal, Milwaukee and Michigan this summer. But "all roads lead to Jersey," he said.
rlazarus@observer.com