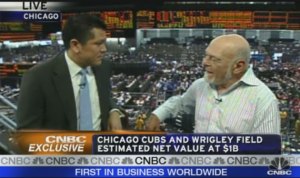 This morning on CNBC's Squawk Box, Carl Quintanilla interviewed Tribune owner Sam Zell about everything from the housing market to the elections to the Chicago Cubs. (This comes via Jim Romenesko.)
When the subject turned to the advertising market, Mr. Zell asked, "What ad market?" Mr. Quintanilla clarified that he meant newspaper advertisers, which prompted the outspoken Mr. Zell to bark, "I'm trying to find one of 'em!"
Here's how Mr. Zell described his newspaper business:
I think the case of Tribune, really, or newspapers in general basically comes down to producing a newspaper that the customer is willing to pay for. And the customer is the advertiser and the customer is the reader. That's the challenge.
Interesting choice of order there.
Mr. Zell added, "I think we can have terrific newspapers, but I think the newspapers have to respond to their customers. … We're gonna give it to 'em."