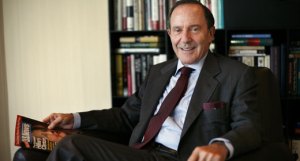 Boston Properties chairman Mort Zuckerman appeared on Fox Business Channel on Wednesday. He talked about his record buy of the GM Building, the development at the World Trade Center site, and the foreign investment in city real estate. He also, apropos of nothing (as far as we can tell), took himself out of the 2009 mayoral campaign:
"If you ever hear anybody or me talking about that, you have the right to send me to a serious shrink."
Mr. Zuckerman's comments below, courtesy of Fox Business Channel:
On purchasing the GM Building
"The General Motors Building is a two million square foot building. It's the most sought-after building in New York. It's the highest quality, highest prestige building in New York overlooking Central Park."
"At the upper end of the office market there is virtually no vacancy. We have five and a half million feet of space in New York at the upper end of the market. We have a vacancy that's less than 1%. This building is virtually fully occupied. There are many people who wish to get into the building and many people within the building who want to expand. We're very comfortable about the building and its future. In addition to which, the average rents in this building are about half of what the market rents are today. So any time anybody leaves we're in a position to pick up a considerable increase in rent. So for all these reasons, we thought it was an excellent buy."
On Leases in the Building
"About 40% of the building is long-term lease, long-term being 10 or 11 years which is not that long for office space. When those leases roll, we'll do even better. Meantime we have a million 200,000 square feet between then and now which will turn over and on which we will be able to get a satisfactory return. In fact, I think it is the best single real estate transaction I've ever been involved with "
On foreign dollars in the New York real estate market
"New York, particularly the office buildings in New York, most of which are concentrated in Manhattan, deal with the fact or respond to the fact number one, Manhattan is not just a part of the New York City economy, it is part of the global economy. It is a city where, for example, there is an Apple store in the General Motors Building, a rather famous store with the cube, over 60% of the customers are foreigners. And I say that because the hotels in New York are busy, the residential units particularly the upper end of the market are going like gangbusters, because a lot of foreign money comes into the city and that is true also for office space."
"This part of the city, Manhattan, always does much better than much of the rest of the country. One other thing that is very special about New York and one of the reasons we are in New York is because you have supply constraints. It's very difficult to find new sites in New York to build new buildings. It's very, very difficult to assemble those sites and build new buildings. There are basically only two buildings coming on stream in the next four years which is remarkably low considering the huge base of office space that represents virtually no growth for the next four years."
On Larry Silverstein building the WTC Site
"That's premiere real estate as well. That's downtown real estate. We're in midtown. There are two separate markets. Downtown is a very, very different market from midtown. All of our real estate in midtown. It's a much better market for the kinds of tenants we have."
On Deutsche Bank taking back the 3 properties
"That is a particular and unique set of circumstances. As a bank, they really were obligated to get liquid on the loans which they made. It so happened that the original buyer, Harry Macklowe as you know, was originally going to buy those building and had to turn them back over to Deutsche Bank to make good on the loan that he had for them and basically they turned around and sold them and they'll take a loss on it.
"This is not an easy time to sell real estate because it's very difficult to accumulate the capital. We sold buildings last year when prices were very high to exactly be in a position to try to make some purchases this year and the best single purchase we could have ever made is the GM building."
Philosophy on Real Estate
"Real estate is not a short-term proposition. We do not look upon it as being one, two, three years. Not that we will do badly. We will do much better over the long-haul. That's the way we value real estate. How will it look over the long-haul? Virtually every building we've had, we've held for a very long term. That's the way we look at an investment like this."
On being able to buy the GM building
"We thought the prices for real estate last year were so astronomical, we thought it was a good market to sell into, not buy into. A lot of people were buying not selling. Now we're in a position to buy when there aren't too many other people in a position to buy which gives us a comparative advantage and we were able to take advantage of that and buy the GM building."
On Candidates
"I do not support the extension or the continuation of President Bush's tax cuts. Nor do I want to increase those tax cuts, which is exactly what I'm afraid Senator McCain proposes. I do support the idea of Senator Obama increasing taxes on the very upper end of the income spectrum, who have done so well and garnered so much of the income growth over the last God knows 10 years, 15 years. We need to do something about the fiscal side of the economy. We have to send money on other things like education and infrastructure and not on tax cuts for the wealthy."
On Mayor Bloomberg
'I'll declare my interest. The Daily News was the only newspaper to endorse him the first time he ran. I take a great deal of pride in that because I think he's been a great mayor in terms of his management of the city, particularly the management of the fiscal side of the city."
He is only politician I know who in the surplus year saved the money and didn't spend it because he knew there would be some bad years at some point in the future. So we're in relatively good shape. I think he's been a great fiscal steward of the city. In addition if I had to describe the differences between him and Mayor Guliani, both of whom made major contributions to the city, I would say Guiliani eliminated some of the negatives in New York and Bloomberg brought out all the positives in New York."
On Running for Mayor Himself
"If you ever hear anybody or me talking about that, you have the right to send me to a serious shrink."