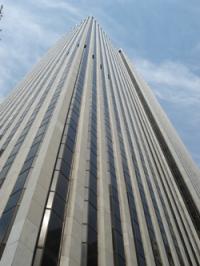 Boston Properties' purchase of the GM Building has not even gone through yet, but it appears that Mort Zuckerman is already shaking things up at the Midtown office tower he and his partners are expected to formally own within the next week.
We visited the GM Building after the deal was negotiated over Memorial Day Weekend, and rumors were already circulating that current maintenance and security crews should expect their marching orders at the end of May.
This morning, a new doorman outside the Apple Store told us his employer Quality Building Services had recently gotten the contract on the GM Building, and Monday was his first day on duty.
We also saw some workers wearing QBS uniforms (rather than the green ones worn by former owner Macklowe Properties' maintenance staff) shuffling around.
Representatives from both Boston and Macklowe refused to comment on anything related to the property before the sale is complete.
One Manhattan real estate developer told us that shifting management companies before a commercial transaction is finalized isn't uncommon, since building management is rarely a source of profit.
"They're going to want to transition someone in there so it's in their interest to do it as soon as possible to maintain the integrity of the building," said the developer. "When someone forecloses on a house they try to get cops there right away because the owners will pour cement down the toilet or something and decrease the value of the property. I'm not saying Harry Macklowe will do that, but you want to make sure they don't skim dollars."