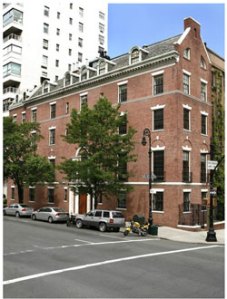 In June 1989, the month that the Ayatollah Khomeini died, Robert Mapplethorpe's photos were removed from the Corcoran Gallery and protestors were massacred in Tiananmen Square, the developer Sherman Cohen paid a then epic $12.5 million for the neo-federal, Tuscan-columned, 100-foot-wide, 20-foot-deep, 25-room mansion at 603 Park Avenue as a surprise for his wife.
She didn't like it.
So Mr. Cohen put the house back on the market, where it stayed, on and off, for nearly 20 years. Around May 21, the press-shy broker and socialite Serena Boardman (her great-great-grandfather was George F. Baker, who founded what later became Citibank) and her Sotheby's colleague Leila Stone put the house back on the market after a lull for $35 million.
According to the listings Web site Streeteasy, exactly one month later—and, for those counting, 24 hours shy of 19 years after Mr. Cohen's purchase—the red-brick Park Avenue mansion went to contract.
The brokers had no comment for this article, and Mr. Cohen's son, Charles, the president and CEO of the family's development company, did not return calls, so it's hard to say what the final sale price will be. But one imagines it'll be higher than the $20 million the family asked when they first put the place up for sale nearly two decades ago.
(As The Observer wrote after the house went back on the market this summer, the on-and-off asking price was down as low as $13.5 million in 1995; then up to $14 million in 1999; $14.5 million, and then $14 million again, in 2000; $25 million in 2002; back down to $14 million four months later; up to $25 million by 2004; up to $30 million in 2005; down to $29.5 million in 2006; and back up to $35 million with mega-broker Dolly Lenz last year.)
"Lightening strikes!" said the high-end broker Kirk Henckels when asked how a mansion tainted by a three-decade span on the market could go to contract in an otherwise catastrophic month for New York. "It needs a little rearranging, but it's a beautiful, beautiful house."
mabelson@observer.com