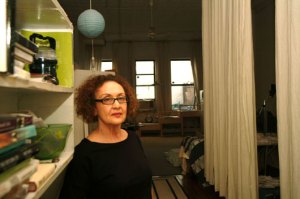 When Roberta Degnore moved to the Bowery some 30 years ago, there were no ritzy hotels, expensive condos, or Whole Foods; no moms with baby carriages or yuppies walking their dogs.
But there were plenty of prostitutes turning tricks on the corner and bums who would use her doorstep as a toilet, and you would more likely see rats on the sidewalk than copies of The New York Times.
"It was all focused on the arts scene," said Ms. Degnore, a petite filmmaker and psychologist with wavy red hair and cat-eye glasses, sitting in her spacious, rent-stabilized loft near the intersection with Delancey Street. "No one had any money back then. Everyone was just doing art because they loved it, and we gave each other respect because of that."
But the more the Bowery gentrifies, the less room there is for people like Ms. Degnore.
Her landlord just sold for $7.55 million the five-story walk-up where she's lived since 1980 in a 1,400-square-foot loft with a 25-by-22-foot terrace, for which she now pays around $1,300 a month. The apparent buyer is Brack Capital, a bullish global real estate firm whose New York portfolio includes an array of towering luxury hotels, condos and office buildings. Brack has closed on three adjacent properties, including a four-story walk-up at 189 Bowery that it bought in November of 2007 for $9.7 million, almost $5.5 million more than the same building sold for in July of 2006. There have been rumors the company wants to build a large hotel there, but an employee in Brack's Manhattan office declined to comment on the company's plans for the properties, and calls to managers handling its Bowery project were not returned.
Earlier this year, the other tenants in Ms. Degnore's building, who were all on market-rate leases, were bought out in deals negotiated by Robert A. Cohen & Associates, a real estate investment and property management company that appears to be involved in the sale. Ms. Degnore said she has repeatedly declined buyout offers, and Mr. Cohen declined to comment for this article.
Now, Ms. Degnore and her dog, a 14-year-old Lab named Patsy, are the building's sole occupants ("it's a very creepy feeling"), but she said she won't give up her digs: "I refuse to be forced out by developers."
SINCE THE LATE '90s, the Bowery has been undergoing a vast luxury transformation. It's evident in the massive hotels that have started to line the avenue from Canal Street, where the 18-story Wyndham is being built, all the way up to Sixth Street, where the 22-story Cooper Square Hotel is nearing completion; in the shiny New Museum of Contemporary Art, which looms like a giant robot above the weathered old buildings that flank it; in the neighborhood's plethora of trendy bars; in the John Varvatos boutique that opened where the legendary CBGB used to be; and in a new Chase bank up the street, where it costs $3 to use the A.T.M.
For better or for worse, developers are capitalizing on skid row's legacy of art and alcoholism—grime is what gave the Bowery its character, and character is what makes it a cool place to be.
But longtime residents like Ms. Degnore still can't believe that a street once dominated by flophouses, winos and eccentrics is becoming a luxury destination.
A Detroit native, Ms. Degnore came to Manhattan in 1972 in her early 20s. Her first apartment, a split-level studio with lots of windows, was on 15th Street in a newly renovated brownstone just west of Eighth Avenue. She can't remember exactly how much the rent was, but she said it must have been "next to nothing, 200 bucks or something."
Over the next few years, she bounced around among various apartments in Lower Manhattan, finally moving by January of 1980 to her loft on the Bowery, which she said has been an ideal setting for creative endeavors—screenplays, novels and several short films, including an experimental documentary about the art of glass blowing that's more reminiscent of Kenneth Anger than it is the Discovery Channel.
The day she moved in was cold and snowy, but the loft had a working fireplace at the time. So the first thing she did after lugging up all her stuff up was buy some bundles of wood from a guy selling them out of his pickup truck, get a fire going, and invite over her friend Sam Wagstaff, Robert Mapplethorpe's mentor and companion, who died of AIDS in 1987. They sat around for hours smoking cigarettes, she recalled.