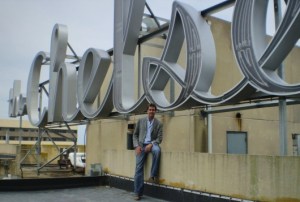 Today marked the ceremonial ribbon-cutting of the hugely hyped Chelsea hotel in Atlantic City.
Hotelier Curtis Bashaw recently sat down with The Observer to discuss the $110 million project, which aims to lure more young, hip New Yorkers to South Jersey's gritty gaming town and otherwise restore some of the ancient seaside destination's long-lost glamour.
"We do a lot of real estate projects — we've done ground-up buildings in the city and all sorts of other stuff — but these hotel renovation projects are among the most challenging and rewarding and pleasurable projects," said Mr. Bashaw, 48, who, alongside his Cape Advisors partner Craig Wood, has combined an old Howard Johnson and Holiday Inn into a single 330-room boutique hotel on the boardwalk. "Because what you're doing is creating a personality as well as a space. It's gotta live. I mean, it's not like a condo, where you're just selling units and yet people move in and live. A hotel is like an organism."
An organism that was still gestating at the time of our interview last week. The lobby was complete, adorned with all sorts of funky furniture, and many of the guest rooms were done.
But the highly ballyhooed fifth floor — home to a new Stephen Starr restaurant, Chelsea Prime; as well as a 15,000-square-foot pool deck and a series of separate bars and lounges with touches by Beatrice Inn impresarios Matt Abramcyk and Paul Sevigny — remained a construction site. The goal, he said, was to open by Aug. 1.
"So this floor is the fifth floor," announced Mr. Bashaw, exiting a stairwell, during a tour of the premises on July 10, an electric saw loudly buzzing in the background. "It is the old meeting room of the Holiday Inn. … We decided to make this a real fun hangout. …
"In the Chelsea Prime, we're doing all these black-and-white photos," he said. "There's a woman who lives in New York now whose dad was sort of the Patrick McMullan of Atlantic City in the '40s and '50s; and she made a deal with us for her dad's collection that we've had framed and we're going to have hanging in Chelsea Prime.
"This trio of rooms," he continued, moving on to the other side of the vast floor, "is where Matt and Paul will be entertaining and helping create the vibe on weekends and during the summertime. … All the rooms have pocket doors and can be separate so you can do private parties. …
"On these walls, we've collected all these vintage Monopoly games, which was created in Atlantic City. …
"Big speakers — you see the size of these speakers? I mean, these places will be able to rock!"
Outside upon the sprawling pool deck, scores of construction workers were installing planters and brushing on coats of paint.
Mr. Bashaw pointed out a particularly large cabana that "will also serve as a stage," he said. "We want to do really intimate concerts. Paul and Matt are so excited about leveraging this stage to do unknown bands or recent discoveries — or even we thought about going the opposite direction and doing, like, a big name but a small amount of people. …"
Downstairs, a 7,500-square-foot spa was also under construction.
"This is a clover leaf-shaped saltwater jacuzzi," Mr. Bashaw said, standing over a large hole in the ground. "In the old Atlantic City hotels, they all had four pipes into the rooms: hot and cold freshwater and hot and cold saltwater from the ocean because they thought the saltwater was therapeutic. … So we're sort of reviving that."
"That's a saltwater pool," he went on, pointing to another pit outside the spa, "that will be heated year-round.
"I think this is going to be one of the most fun spots in the hotel," he said, strolling the saltwater pool, which is surrounded by balconies from guest rooms and banquet areas overlooking the swimming spot. "This whole thing is very visual, very voyeuristic, very social."
Later, he led us into the forthcoming Teplitzky's, a diner open around the clock during the summer (also under the direction of Stephen Starr), which will further include a small cocktail lounge in the back.
"It's going to feel like the Polo Lounge at the Beverly Hills Hotel," Mr. Bashaw said. "This is going to be the debauched 4 a.m. space, I just have a feeling. …
"You know, 20 years ago, Miami Beach, nobody went there and then it revived itself," he said. "And to do this hotel here now, in light of what's happened, we think is good timing. Some people say we're ahead of the curve. We'll see."