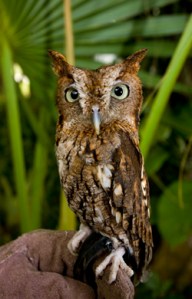 Central Park in the Dark: More Mysteries of Urban Wildlife
By Marie Winn
Farrar, Straus and Giroux, 295 pages, $25
Ten years ago, Wall Street Journal reporter Marie Winn told the story of her enchantment with a pair of red-tailed hawks nesting on the ledge of a tony Fifth Avenue co-op in clear view of the Central Park boat pond. Ecstatic birdwatchers kept vigil, generously offering use of their expensive-looking binoculars to all who passed. The story had legs (wings?) and her book, Red-Tails in Love, was a hit. Aside from making Pale Male and Lola (as they were dubbed) into posterbirds for the resurgence of New York's long-depressed hawk population, Red-Tails did something akin to setting down an oral tradition for the first time. Trees and paths you'd jogged by a thousand times had names, it turned out. And that meant they might have stories, too.
Ms. Winn is back with a new installment of her chronicle, this time a field guide to the full range of the park's obsessive nature-lovers. Take it out for an evening of nerd-watching: Cross off the birders first (they're easy, like pigeons), then turn down West Drive to find the stargazers (you shall know them by their telescopes). Next, add lepidopterists to your list, the mammalogists (who study bats), then the abstruse, yet very charming, malacologists. (Look it up!)
Subspecies for advanced students: the guy who records birdcalls, and the other guy who tracks the nesting patterns of cardinals. After hours, drop in on the slug-sex enthusiasts. Lest you doubt the fascination of this topic, cf. Darwin's Descent of Man: "Anyone who has a chance to observe the love-making of slugs cannot doubt that these hermaphrodites use seduction and allure in their movements as they prepare for and accomplish their double embrace."
One of the pleasures of nature writing is making lists—the incantatory recitation of species spotted, which the uninitiated often mistake for neurotic disengagement from the social world. Ms. Winn turns this stereotype on its head: Her devotees of Central Park's wildlife are only too eager to share their inventories with curious passersby. Spend enough time among naturalists and you'll learn that it's not the list that counts, but the implied list of species not yet sighted, species longed for with the ardor of unrequited love. Write all the odes you want to the prothonotary warbler: It will cross your line of sight in its own good time. But oh, when it does …
MARIE WINN WEAVES HER tales of nature obsession from the reports of sources you'd expect, such as scientists and park rangers, but what really enlivens this book is the testimony of the host of New Yorkers whose cosmopolitan lives and city-slicker professions are, it turns out, deep cover for geeky nature sleuths enraptured by the insoluble mysteries of animal behavior. Take, for example, the Bergdorf Goodman personal shopper who sent Ms. Winn regular dispatches on the hundreds of grackles roosting in the pear trees outside her window near the Pomona fountain on 59th Street; or the residents of an East Harlem housing project who gathered daily at 7 in the morning to watch a barred owl return from its nightly hunt. Barred owls, you see, are usually forest birds.
"At the heart of it lies biophilia, an appreciation for nature's diversity," writes Ms. Winn—and also, she adds, in confessional mode, "a soupçon of lunacy."
Damian Da Costa is on the staff of The Observer. He can be reached at ddacosta@observer.com.