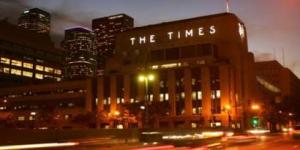 Internal emails are circulating in the Los Angeles Times with some of the 150 names who are getting laid off at the paper. One staffer showed us the names of one email that's going around in the features department. We've sent out emails to each of them requesting confirmation. Here's who has confirmed for us so far:
We'll keep updating as they come in:
Kevin Bronson: old weekend editor, club music writer
Corie Brown: wine reporter. Corie writes: "They've eliminated the job of wine writer. There won't be anyone on the features staff who writes about wine or spirits. They will go all freelance."
Janet Cromley: health writer
Casey Dolan: music writer. Casey writes: "Wow, where to begin? Yes, I'm gone as are MANY fine writers, editors, page designers and copy editors. It is a bad day in Black Rock, indeed. I'm spending the day scouting opportunities. I'll be in the office until Friday."
Chris Pasles: classical music/opera writer
Mark Masek: copy editor
Lynne Heffley: veteran arts reporter
Richard Cromelin: veteran rock writer
Pauline O'Connor: entertainment reporter. Pauline writes: "Oui, c'est vrai!"
Jennifer James: features. Jennifer writes: "Yes, I am one of the people who has been laid off — I have had a wonderful 21 years here and have been honored to work with some of the greatest people in the business."
Donna Deane: food writer
Scott Nordhues: design editor
Karin Esterhammer: copy editor
Perry Crowe: associate editor, The Guide
Paul Zieke: designs features. Paul writes, "i heard you were putting together a layoff list. i'm a features designer canned after 20 years."
There is now a list of 78 names on TellZell.com, a blog written by an anonymous L.A. Times staffer. The author says that the names aren't confirmed, but it's what is being circulated internally right now.