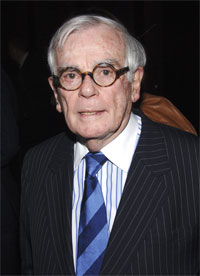 In her New York Post column today, Liz Smith points us toward a new Web site. (How's that for a phrase we never thought we would type?)
Dominick's Diary is a site devoted to sending good wishes to Vanity Fair's special correspondent Dominick Dunne. The site, which Ms. Smith says was co-created by TMZ's Harvey Levin (who should really get someone to fix its header tag), consists of some intro copy that reads:
Dominick Dunne, the iconic writer and world's most charming yet democratic dinner companion is having a serious operation. He's been generous with words that have entertained and educated us. If it wasn't for his sleuthing skills and relentless digging and prodding, Martha Moxley's murderer would still be free. Lets reciprocate! Lets help Dominick recover with our words to him. So here we all are…with Dominick as the common denominator. Happy reading, Dominick!
What follows is a series of fond words from friends and fans, including someone claiming to be Ms. Smith who says, "Dominick, I love and admire you so get well quick. Howdy Doody and I send our best."