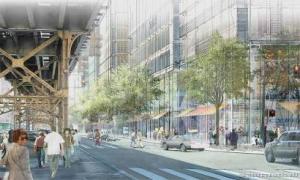 It seems the second blight study commissioned for Columbia University's planned West Harlem expansion did not come at extra cost to the state, as the Empire State Development Corporation's spokesman confirmed today that Columbia picked up the report's $217,000 tab.
The state's major development agency, ESDC, yesterday declared the 17-acre expansion footprint as blighted, a necessary step before using eminent domain. Prior to yesterday, it was unclear whether a blight study the state commissioned would have run into legal obstacles, as a state appellate court earlier in the week was critical of the state's use of contractor AKRF to complete the study.
But yesterday, ESDC's president, Avi Schick, announced the agency had done a second blight study—an "audit," according to the press release—with a separate consultant, seemingly mooting the concerns regarding AKRF (though we haven't yet seen the second study).
Mr. Schick yesterday also unveiled an unexpected set of concessions Columbia had agreed to, including $20 million to be paid to the state's community development agency for the area (a subsidiary of ESDC).