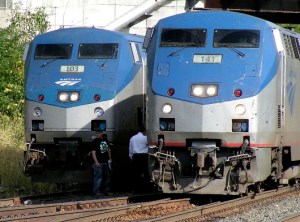 Ridership on Amtrak's Northeast corridor increased over 3.2 percent annually in June, from 878,671 passengers to 907,316, according to new figures from the national rail service.
A look at the most recent numbers for fiscal year 2008, which covers October through June, reveals an even sharper increase in ridership compared to the same nine months in 2007. From October through June, over 5.6 million passengers traveled the Northeast corridor, from Washington to Boston, versus 5 million during the same period last year, representing an 11 percent increase (and coming despite increased fares). Travel on Acela, the Northeast-only express service, increased by 8 percent, from 2.4 million to 2.6 million riders.
"The routes off the Northeast corridor are experiencing record ridership numbers as travelers are now turning to Amtrak to offset the high cost of fuel," said Clifford Cole, an Amtrak spokesman, in an email.
Nationally, Amtrak has reported record passenger numbers for the last five years; and nationwide ridership was up 12 percent annually in June, when 2.5 million passengers rode.
More and more travelers are opting for the train in light of rising gas prices. But routes in other parts of the country still have enough seats to meet the increased demand, said Mr. Cole. On the Northeast corridor, however, "it is not unusual to find a large number of our frequencies to be sold out each day," he said.