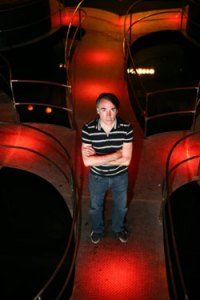 This October, Soho nightlife is turning green. Jon Bakhshi, impresario of meatpacking district hot spots Home and Guest House, is set to open his third club: a new eco-friendly space called Greenhouse. Mr. Bakhshi, known as "Jon B." along club row, envisions an environmentally friendly venue with guests dancing on flooring made from recyclable material. Gyrating ladies, with their blown-out hair and glittery tops, will shimmer under low-voltage lights. Guys, lounging on buttery couches made from recyclable material, will sip on organic alcohol mixed with fresh juices. In early designs, Mr. Bakhshi pictured two floors, with a gigantic waterfall and a ceiling bursting with live plants. (He's since scaled back.) The toilets? They'd flush efficiently.
"People can't wait for me to open," said Mr. Bakhshi, 31, the promoter turned club owner who escorted the bridge-and-tunnel masses into the meatpacking district in the mid-'90s. "For me, I just want the perfect venue."
During Fashion Week in Paris last fall, leggy supermodel duo Jessica Stam and Carmen Kass hosted a celebratory party for Greenhouse at swanky Parisian club Le Baron. "I'm not sure an eco-friendly nightclub is gonna fly," Ms. Stam told a Women's Wear Daily reporter at the party, "but it's raising awareness."
Nearly a year later, with gas prices soaring and the words "energy crisis" tumbling off even the most un-Gore-like lips, the whole project of greening up nightlife seems perfectly prescient. The typical club—with its blasting sound systems, sweat-cooling air-conditioners and lights blazing three nights a week—gobbles up 150 times more energy than a four-person family every year, according to Enviu, a Netherlands-based, environmental nonprofit group. In New York City, dance spots tend to be open five to six days a week, making their consumption that much higher. And consider the thousands of bottle-service remnants and beer cans to recycle, cocktail napkins to toss and thousands of toilets flushing the night's debauchery away. We may never see the end of tacky string-tie tops and gold chains, but our clubs, at least, can get makeovers.
For some clubs and bars, greening up has been a gradual process. The Village Pourhouse on Third Avenue, a spot near the N.Y.U. dorms that attracts a frat-boy crowd, uses certified green cleaning supplies, proffers organic beers and vodka and uses recycled paper products. (The bar's laundry is also done in-house to reduce carbon emissions.) Fort Greene's Habana Outpost, a chill-out spot famous for its margaritas, has tables made from sawdust and recycled plastic, and a composting system. There's also a solar-powered cell-phone charger to juice up iPhones and BlackBerrys. But for others, replacing the Clorox with Seventh Generation isn't enough: People like Mr. Bakhshi want to start from scratch and get LEED (Leadership in Energy and Environmental Design ) certification, a kind of gold star of approval for environmentally friendly construction practices from the U.S. Green Building Council. With LEED certification, an owner can market his club as a hip, organic sanctuary for the environmentally conscious. (Paging Leo! Adrian! Cameron!)
And with some clubs donating part of their profits to green charities, clubbers can, literally and figuratively, dance to save the world.
SWEAT-POWERED NIGHTLIFE
But might it be possible for club owners to take eco-consciousness too far? At London nightspot Club Surya, which takes its name from the Hindu sun god, even partiers' sweat helps power the place. The floor is designed to harness the energy of its dancing patrons, which is used to power the club. As partygoers bop around on the spring-loaded floor, it dips about 2 centimeters, which sends a flywheel spinning to capture the resulting kinetic energy (think of how spinning on a bicycle can light an attached bulb). Press materials for Club4Climate, the nonprofit launched by British real estate mogul Andrew Charalambous that runs the club, claim that the floor powers 60 percent of the place. The rest is supplemented by solar panels and wind power.
But that's not all. The aforementioned sweat turns temperature-sensitive walls different colors, toilets flush with rainwater and bartenders serve aloe-vera-infused "bio-beer." An idea we especially like: Bouncers offer free admission to clubgoers who traveled there by walking, bicycling or using public transportation.
And Club4Climate, which donates profits to the Friends of the Earth foundation, has an office in New York City. Organizers are currently scouting for new club sites.
Club4Climate representatives did not return several phone calls for comment (and an e-mail sent to an address published on their Web site bounced back). Their mascot, a bald-headed, pale man in a white suit called Dr. Earth (just throw a Persian cat on his lap and you'd have Dr. Evil from the Austin Powers movies), urges clubgoers in an online video to have a "spiritual experience" while dancing the night away. In Dr. Earth's 10-point plan to being a "greener self," he claims that "passion and hedonism is your ecologically friendly right. Do it. Don't be frightened of it."
But until we have our own Surya-like space, Galapagos Art Space should satisfy the most eco-conscious among us.
Galapagos, which first opened in 1995, has been in the process of relocating from North Sixth Street in Williamsburg to a 102-year-old, 10,000-square-foot former horse stable at 16 Main Street in Dumbo for the past year. In late 2005, Galapagos' rent on North Sixth Street was raised by 30 percent, resulting in a $10,000 increase to their monthly costs. That, along with increasing electricity fees and maintenance problems, meant that Galapagos couldn't afford to stay in the neighborhood it helped establish.
But the move offered an opportunity for club owner Robert Elmes to give his business an eco-makeover. The new warehouse-style space on Main Street includes a "hyper-efficient" air-conditioning system for hot summer nights. Instead of oil-powered heaters, hot water pumps through pipes in the walls to keep the dance floor warm in the winter. A 1,600-foot decorative "lake" is fed by a water well that Galapagos drilled for the new building. The toilets use less water than the average john, and there's energy-efficient lighting, too (only 7.5 watts per square foot!). The new venue has been open sporadically this summer, showing films and hosting small events, but it should be fully operational by next Tuesday and open full time by September.