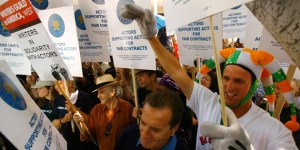 The Screen Actors Guild is none too happy with union brethren the American Federation of Television and Radio Artists. AFTRA members accepted a three-year contract with Hollywood studios, while S.A.G. is still holding out for a better deal. Not only did the union snub S.A.G.'s demands, they also talked some trash.
The Associated Press tells us that Federation President Roberta Reardon is accusing S.A.G. of unleashing an "unprecedented disinformation campaign" that put the deal in jeopardy.
S.A.G. leaders "must be held accountable for this ridiculous waste of members' dues money, including my own, in attacking another union's contract," Ms. Reardon told reporters Tuesday. "In the face of that kind of attack, the percentage we ratified this by is really good." (63 percent of AFTRA's members approved the new contract).
S.A.G. said AFTRA's deal undermines their own negotiations with producers. Don't hold your breath, they haven't called for a strike authorization vote. But it could come any day now if one of the sides doesn't give in soon.