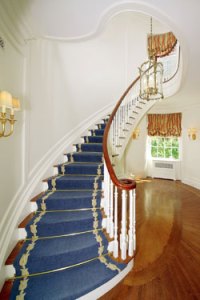 This May, it took Christine Wasserstein less than a week to find a buyer for her $34 million apartment (which she'd kept after a divorce from New York magazine owner Bruce Wasserstein). Her neighbors at 1030 Fifth Avenue—where, for example, Diane Sawyer and Mike Nichols live in Robert Redford's old penthouse—were probably impressed.
Barnard trustee Karen Fleiss, who founded the hedge fund KMF Partners, and her husband, David, a Fifth Avenue orthopedic surgeon, have put their duplex there on the market for $47.5 million, one of the most expensive apartment listings ever in New York.
"I'm not going to respond to that," said Ms. Fleiss, reached at the apartment, when asked about the price tag. Did she know that no Manhattan co-op has ever sold above $46 million? "I'm not going to respond to that, either."
On the one hand, it's hard to imagine that the co-op could sell for quite so much, considering it's on just the third floor—a few feet away from the indignity of 84th Street traffic feeding out of Central Park. Then again, this is the kind of duplex where the 24-foot-wide drawing room, 20-foot-long dining room, 20-foot-long study and massive master bedroom suite (the size of the drawing room and library put together) all have wood-burning fireplaces, according to floor plans.
Then there are apparently two chef's kitchens, two laundry rooms, two galleries, nine walk-in closets (plus a dressing room and 16 non-walk-in closets) and a serious swirling staircase. There are seven official bedrooms, plus a "gym/bedroom" and maid's room.
When asked about the handful of other spreads on the market above $45 million, listing broker Sharon Baum said: "They're wonderful apartments also, but I don't think there's anything that has seven or eight bedrooms." (The Pierre's $70 million triplex and the Mark's $60 million penthouse have only five.) Fritzi Kallop, the other listing broker, did not comment.
Before hanging up on this reporter, Ms. Fleiss had said she and her husband are selling because their kids are grown up, which means the couple is spending more time in California: "It's a big apartment, it's a very big apartment—we don't need a gigantic space." But is this a good time to be selling? "I'm buying something else, so what difference does it make to me?" she said. "None! Zero!"
This isn't the first time her real estate deals have made news. According to Vanity Fair, when she sold her Richard Meier-designed Perry Street apartment to Vincent Gallo in 2003 for around $1.7 million, much less than she'd paid, seven potential sales had already fallen through.
Even if the 1030 Fifth sale turns out to be difficult, too, $47.5 million would be worth the effort: Ms. Fleiss said the apartment was bought for "around $2 million" in the '80s.
mabelson@observer.com