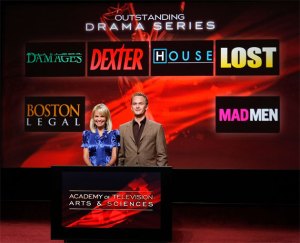 The 60th Annual Emmy Awards nominations have been announced, and as Gillian Reagan points out on our sister blog, Culture Czar, quality television purveyor HBO was shut out of the Best Drama category. There wasn't even a spot for The Wire, which finished its final season beneath an avalanche of critical praise.
That may not be such a shame according to Time's James Poniewozik, who writes, "Maybe it's more fitting that The Wire can go out with its purity of outrage and injustice intact. And at least an HBO-less drama category may be a little more interesting." HBO might've had a nomination in Mad Men had they not passed on the series, enabling AMC to pick up the hit. New York magazine's Vulture blog is also displeased, headlining a post The Emmys Wimp Out.
Perhaps HBO will do better next year with the help of their new creative consultants. In May, The Observer's Felix Gillette talked to New York Times columnist Frank Rich who will be offering suggestions and ideas to the pay cable channel. At the time, Mr. Rich said, "In terms of the ideas that I'd like to bring to HBO, I certainly don't want them all to be about politics. … Part of the fun of this to me is to find things that really have nothing to do with what I write about in my column."
Let's hope whatever he comes up with scores some Emmys next year.