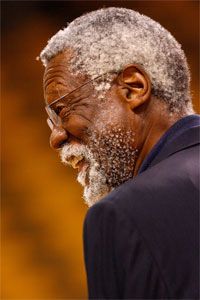 Collins, a division of HarperCollins, agreed to pay legendary Celtics center Bill Russell, 74, over $1 million dollars to write a book about his old coach, the late Red Auerbach. Hard to know, as always, whether that figure is just someone's guess or the real thing. We heard it from two sources, but Collins publisher Bruce Nichols did not immediately return an e-mail asking whether it was high or low. 
Auerbach, who died in 2006, won nine NBA championships as coach of the Celtics, and seven more after he became the team's GM in 1967.
Mr. Russell's book will be called Red and Me; Collins intends to publish in spring 2009. Power-agent Flip Brophy of Sterling Lord Literistic brokered the deal.