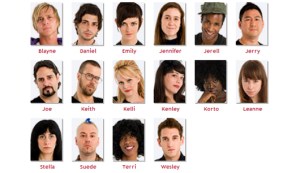 The suspense is over.
Bravo has finally unveiled the new cast lineup for Project Runway just two days before the premier of season five.
"I feel as though we set the bar higher every season," host Heidi Klum said in a statement released this morning. "We've got some truly talented, innovative and deeply creative designers this year, and I think it's fair to say, the most diverse—everyone from a rocker chick who mostly works with leather to a more bohemian, surfer boy and everything in between."
Guest judges this season will include Diane Von Furstenberg, Sandra Bernhard, Apolo Ohno, Brooke Shields, LL Cool J, RuPaul, Rachel Zoe, Cynthia Rowley and Francisco Costa. Bios here:
BLAYNE
AGE: 23
HOMETOWN: Yakima, Washington
CURRENTLY RESIDES: Seattle, Washington
EDUCATION: Art Institute of Seattle
FAVORITE DESIGNERS: John Galliano, Yohji Yamaoto and Diesel
FASHION MUST: Neon anything!
Blayne began his fashion career right out of high school when he moved to attend the Art Institute of Seattle. Upon graduating AIS, he was approached by Seattle Seahawks' running back Shaun Alexander to design an up-and-coming athletic line. He continues to build his name by selling his creations in local boutiques and throwing fashion shows. Blayne was also named Seattle's "Most Stylish Male" by a panel of judges.
DANIEL
AGE: 25
HOMETOWN: Great Barrington, Massachusetts
CURRENTLY RESIDES: Brooklyn, New York
EDUCATION: Pratt Institute of Art and Design
FAVORITE DESIGNERS: Charles James and Thierry Mugler
FASHION MUST: A novelty blazer
Daniel grew up in the Berkshires in Massachusetts before attending the Pratt Institute of Art and Design. He takes an interesting approach to fashion by combining his love of science and nature with his love for fashion. The self-proclaimed adventurous designer always thought he wanted to be a zoologist, but a love of art and design eventually took over and he now draws inspiration from animals in order to produce creative textures and patterns in his work. Aside from animals, the greatest fashion influence in Daniel's life has been his mother, whom he says always paid a great deal of attention to details in dressing and grooming.
EMILY
AGE: 27
HOMETOWN: Sacramento, California
CURRENTLY RESIDES: Los Angeles, California
EDUCATION: Otis College of Art & Design
FAVORITE DESIGNERS: John Galliano, Vivienne Westwood and Rei Kawabuko
FASHION MUST: Great Jeans
Emily grew up in Sacramento, California and attended the Otis College of Art and Design in Los Angeles, where she learned the business aspect of fashion. She mastered the skills of tradeshows, wholesale buying and press, all which helped reach her goal of designing her own collection. Emily has worked with XoXo, La Blanca, DKNY, Rozae Nichols and Jeremy Scott. As a sales and press manager for Hysteric Glamour, Emily traveled back and forth from Japan 10 times in two years. In 2006, she launched a design team called "Smoke and Mirrors," which has become a successful LA brand. The biggest fashion influences in Emily's life have been her friends, her family and her traveling experiences.
JENNIFER
AGE: 27
HOMETOWN: East Syracuse, New York
CURRENTLY RESIDES: Pistoia, Italy
EDUCATION: Fashion Institute of Technology
FAVORITE DESIGNERS: Schiaparelli, Moschino and Cynthia Rowley
FASHION MUST: A go-to party dress
Jennifer was born and raised in Syracuse, NY and after visiting New York City for the first time as a young child, she decided she desperately wanted to be a fashion designer. After graduating from the Fashion Institute of Technology, she moved to Italy to pursue her dream. In Italy, she has worked as an embroidery designer for top European design house Blumarine. Color, art and Audrey Hepburn are among her greatest inspirations and she says her design theory is Holly Go-Lightly attends a Salvador Dali exhibit.
JERELL
AGE: 28
HOMETOWN: Houston, Texas
CURRENTLY RESIDES: Los Angeles, California
FAVORITE DESIGNERS: Alexander McQueen, Vivienne Westwood and Karl Lagerfeld
FASHION MUST: Great shoes
With a unique eye for details, Jerrell's designs are intricate and creative. Jerrell found his passion for fashion by way of modeling. The former model admits to not being able to afford "the cool stuff" in his early career, and so he taught himself how to make what he wanted to wear. He describes himself as eclectic and bold and wants to create pieces that express people's individualities. Inspired by life, Jerrell classifies his designs as "raw beauty."
JERRY
AGE: 32
HOMETOWN: Butte, Montana
CURRENTLY RESIDES: New York City
EDUCATION: Attended both Parsons and Fashion Institute of Technology
FAVORITE DESIGNERS: Martin Margiela, Rick Owens and Calvin Klein
FASHION MUST: Black and white combos
Growing up in Butte, MT, Jerry dreamt of coming to the big city and found his home in the fashion world. He's been working in the industry for seven years. With only two years of design education, including time at both Parsons School of Design and the Fashion Institute of Technology, he has worked with Imitation of Christ, Perry Ellis Women's Wear and Zac Posen. All of his work has lead him to the creation of his own label, FORM, which he launched three years ago in New York City. Inspired by intrinsic architecture, FORM uses natural fabrics for both warmth and aesthetics.
JOE
AGE: 41
HOMETOWN: Troy, Michigan
CURRENTLY RESIDES: Troy, Michigan
EDUCATION: Parsons School of Design
FAVORITE DESIGNERS: Giorgio Armani, Yves Saint Laurent and Betsey Johnson
FASHION MUST: Basic black t-shirt
As a graduate of the Parsons School of Design, Joe has been working in the fashion industry for the past 18 years. His career began immediately after he left the classroom and was hired by Bugle Boy. He considers himself a sportswear designer and currently owns two boutique jean and leather lines, which take him between New York and Detroit. Coming from a rich fashion background, he has also worked at Ralph Lauren and Pelle Pelle. Joe's wife and their two daughters, Keely and Maia, are the inspiration behind his designs.
KEITH
AGE: 26
HOMETOWN: Salt Lake City, Utah
CURRENTLY RESIDES: Salt Lake City, Utah
EDUCATION: Salt Lake City Community College
FAVORITE DESIGNERS: Marc Jacobs, Moschino and Valentino
FASHION MUST: Great-fitting jeans
"Get noticed or go home" is Keith's signature saying and he lives and designs by that mantra. He admits to being a self-taught designer with a background in marketing and advertising. While always having a hidden passion for women's clothing, Keith didn't pursue his dream until asked if he was interested in working on a fashion show while producing artwork for clothing. He bought his own sewing machine two weeks before that show and has been designing ever since. He hopes to be original and marketable when it comes to the runway.
KELLI
AGE: 27
HOMETOWN: Columbus, Ohio
CURRENTLY RESIDES: Columbus, Ohio
EDUCATION: The Fashion Institute of Design and Merchandise
FAVORITE DESIGNERS: Thierry Mugler, Yohji Yamamoto and Betsey Johnson
FASHION MUST: A party dress
Growing up in Columbus, Ohio, Kelli turned to retail at the age of 15 as a form of escapism and to create a unique look all her own. She fought her way through adversity receiving a full scholarship from Bob Mackie at the Fashion Institute of Design and Merchandise in Los Angeles. Once there, she was accepted into the Advanced Design Program where she was able to design and show a small collection in 2006. Kelly went on to design a guitar for Kevan Hall during Los Angeles Fashion Week and just r
ecently started her own empire, Black Market – a cutting edge boutique in her hometown.
KENLEY
AGE: 25
HOMETOWN: Pompano Beach, Florida
CURRENTLY RESIDES: Brooklyn, New York
EDUCATION: Florida State University
FAVORITE DESIGNERS: Coco Chanel, Betsey Johnson and Edith Head
FASHION MUST: Black, high-waisted skinny jeans
Born and raised in Pompano Beach, Florida, Kenley is the daughter of a tugboat captain and the youngest of three girls. She began her career in fashion at the age of 16, when she started buying vintage clothing and reconstructing them for herself and friends. After graduating from Florida State University with a marketing degree, Kenley found herself in New York City and got a sales job at Missy Wear. It didn't take longer than a week for her to be promoted to a design position where she was able to blossom in the industry. Since then, she has been working on her own line in a small boutique, her website and has begun freelancing and teaching in her spare time.
KORTO
AGE: 33
HOMETOWN: Liberia
CURRENTLY RESIDES: Mabelvale, Arkansas
EDUCATION: Fashion School in Ottawa, Canada
FAVORITE DESIGNERS: Tracy Reese, Valentino and Randolph Duke
FASHION MUST: Great bag
Originally from Liberia, Korto moved to Canada to attend fashion school. After school, she moved outside of Little Rock, Arkansas, where she now resides with her husband and daughter. Drawing from her African roots, Korto infuses tribal details into her classic designs. She is inspired by rich fabrics and textures and says her designs are intended for real, full-figured women. In her spare time, Korto works as a freelance fashion photographer, dances in an African dance troupe and does African hair braiding and makeup. She says her family considers her to be fun and easygoing.
LEANNE
AGE: 27
HOMETOWN: Yuta, California
CURRENTLY RESIDES: Portland, Oregon
EDUCATION: The Fashion Institute of Design and Merchandise
FAVORITE DESIGNERS: Rodarte, Maison Martin Margiela and Zac Posen
FASHION MUST: Plain white or gray t-shirt
This Portland native first got her itch for design at the early age of 12, after designing ballet costumes. A graduate from the FIDM in San Francisco, Leanne was the recipient of the Levis/Dockers Fashion Designer of Tomorrow scholarship. Much of her designs are influenced by her 5-plus years as a graphic designer and can be described as innovative, structural and sophisticated, resulting in a style that's unquestionably her own. Her feverish appetite for fashion and creation probably lent a hand in naming her line "Leanimal," currently being sold in Portland, New York, and Seattle.
STELLA
AGE: 42
HOMETOWN: Astoria, Queens
CURRENTLY RESIDES: New York City
FAVORITE DESIGNERS: Vivienne Westwood, Balenciaga and Alexander McQueen
FASHION MUST: Vest
In the past five years, this self-taught New Yorker has transitioned from a punk-rock makeup artist to a sought after leather and denim guru by some of Rock n' Roll's elite. Stella's fashion inspiration comes from her lifestyle in New York City and she has a strong work ethic and a "no bull" mantra. She describes herself as outgoing, funny, blunt and caring. Her best fashion advice is not to blend in and not to let your clothes wear you.
SUEDE
AGE: 37
HOMETOWN: Seven Hills, Ohio
CURRENTLY RESDIES: Barryville, New York
FAVORITE DESIGNERS: Jean-Paul Gaultier, Christian Lacroix and Christian Dior
FASHION MUST: Great hoodie
Suede started his fashion career as an intern at Geoffrey Beene and decided to pursue a career in sportswear. He has launched denim-based collections, but has a passion for couture, eveningwear and specialty apparel. Suede believes that this wide variety of style makes him a multi-talented designer. He describes himself as edgy, captivating and alternative. Madonna has been his biggest fashion influence – he finds that her ability to explore so many styles and cultures is a great inspiration. He thinks that layering, experimenting and leaving things to the imagination are all fashion musts.
TERRI
AGE: 39
HOMETOWN: Chicago, Illinois
CURRENTLY RESIDES: Columbus, Ohio
FAVORITE DESIGNERS: Jean-Paul Gaultier, Karl Lagerfeld and Cristobal Balenciaga
FASHION MUST: Low-waist, bell-cut black pants
Terri is as a freelance stylist and designer from Chicago. She has worked as an assistant designer to Barbara Bates, a stylist and merchandiser for Nordstrom and a regional visual manager for Levi's. This Midwestern girl has determination – while attending Columbia College, she started her own fashion organization where any student could display and debut their designs in competitions, exhibitions and an annual fashion show. She is currently working as a Victoria's Secret visual manager and would like to break out with her own designs. She has eclectic and funky styles that compliment her own unique personality. Karl Lagerfeld is Terri's biggest fashion inspiration.
WESLEY
AGE: 23
HOMETOWN: Blackstone, MA
CURRENTLY RESIDES: New York City
EDUCATION: Fashion Institute of Technology
FAVORITE DESIGNERS: Jeanne Lanvin, Marc Jacobs and Cristobal Balenciaga
FASHION MUST: Big old sunglasses
Wesley began making his own clothes in middle school and was paid by other students to do the same for them. He then went on to study at the Fashion Institute of Technology for four years. During his time there, he interned at Marc by Marc Jacobs, Marc Jacobs and Levi Group Inc. – where he was able to learn the ins and outs of the industry. He considers himself to be poised, polished and professional and his design style to be clean, classic and sophisticated.