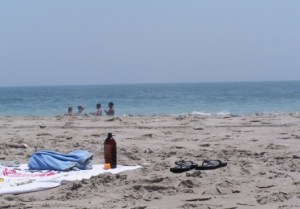 "The lifestyle is so different in Texas," my friend Rhett said to me recently, citing cart space concerns at his local supermarket in South Slope. "Here it's like you bump into each other and nobody acknowledges it."
It got me thinking about what a different, more spacious lifestyle would be like. Do we really need more space?
Last weekend, I visited my friend Dave's childhood home in New Jersey for a pool party, because – yay! – they have those in the suburbs. (Though they're increasingly common in the city, I suppose, as my friend Jenna moved into a building with a pool recently.) I had always considered the suburban upbringing to be stifling; although there's plenty of space, there's not much to do with it. I thought that here in the city we make such good use of our space, we don't need so much of it.
But the summer comes along and all we want is space, especially the kind that's outdoors. I'm lucky to have some myself, and enjoy watching the sun set over Brooklyn with a cold beer or two. I wonder, isn't this precisely what people move to the suburbs for? Even better, saunter over to the park and catch the show, while sitting in some grass. Why would anyone flee this life?
Though I suppose some are fleeing with the notion that the suburbs will allow for enough space to shelter their families, but we have that here, too. Southern Brooklyn is seeing a home buying boom right now for that very reason. And not everyone is fleeing: I'm sure a whole new crop of college grads is making plans to move here to begin adulthood. Will they flee later for more space? Or will they make what they want with some space right here? That seems to be the trend.
One of the biggest gripes people have with New York City right now is its suburbanization. The grittiness has been replaced with big stores from suburban malls, bankers buying apartments with yards in the sky, and someday we might even park our cars in our apartments. Newer developments like Trump Place on the West Side, and the new buildings along Rockefeller Park in the Financial District are the next generation in gated communities. There isn't really anything wrong with that, besides lacking character.
On my way to the Q train last week, I saw a man wearing a "Defend Brooklyn" t-shirt, a slogan I hadn't seen in a while. I'm not really sure who we're defending ourselves from anymore, but it made me think of all the commenters who've taken their line of defense virtual on the many blogs dedicated to Brooklyn. They are to the Internet what old ladies used to be to their brownstone stoops.
As a teenager, I worked on Macdougal Street after school, next door to a 92-year-old woman named Katherine who would pour buckets of water out of her window onto trespassers sitting on her stoop. When she died and her rent-controlled apartment went on the market, there was a line of takers waiting around the block. They wanted her space.
Animosity toward our neighbors often arises from lack of space. We all want our own space, on our own terms, but sometimes we get lonely when there aren't enough people in it. It's exciting to share space with other people, like at Southpaw last week, where I saw the Vaselines play to a sold-out room. But when new people move close to us we feel threatened; we don't like change.
I understand why; everywhere you go in Manhattan these days there's a line. I actually waited an hour for Shake Shack a few weeks back. Once I was in that line I was determined to get my shroom burger and enjoy some open space in Madison Square Park. The nice thing about Brooklyn is that there aren't very many lines. Or tourists. Brooklynites have the benefit of being near Manhattan but not the space issues of living in it.
Each summer, New York City residents flee to the Hamptons for more space and faux-country living. Leave it to New Yorkers to re-create the things we complain about the most against a beachy backdrop. What those people are really after is the right space to be seen in, even if there is suffocating traffic and suffocating attitudes. Why bother? Rockaway Beach is right off the A train. Saunter to Jacob Riis Park for the European dress code and even more space.
I don't mean to denigrate those who seek more space, I just question their reasoning about what type of space they seek. Is it a bottle service booth in a trendy club? A mansion in the Hamptons? Enough space to park a car? I always thought the point of living here was the close proximity to all kinds of people, not to secure enough space to keep them away – that's for the 'burbs.
Growing up in Manhattan has given me the great privilege of being ambivalent about it. The only space I can handle, for the most part, during summer months is Central Park. A sunset at Belvedere Castle, the beautiful paths at dusk, the freedom of nature in a concrete jungle.
The winter months hole us up in what little warmth we have in this world, but come summer time, space is public, and it is yours. This is the prime realty of summer: space where we can dance, and drink and screw, because there's nothing else to do.