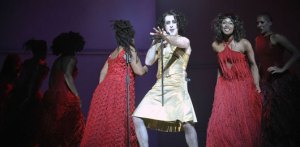 My excited interest in the production of The Bacchae during the Lincoln Center Festival was less about Euripides, good though he is. It was my admiration for the dynamic creative team who've taken a few liberties with the play (which premiered successfully in 405 B.C.).
The National Theatre of Scotland's John Tiffany, The Bacchae's director, and the leading Scottish playwright David Greig, who adapted it from a literal translation by Ian Ruffell, are the immense talents responsible for the modern masterpiece about Scottish soldiers in the Iraq war, Black Watch. I sang the praises of that production unreservedly last season, singling out its fantastic imaginative daring and simplicity. (Black Watch is to return to St. Ann's Warehouse in October.)
What would the proud and newly famous National Theatre of Scotland do with—or to—Euripides? How would the gifted Mr. Tiffany and his team reinvent The Bacchae for today? (Or as the jargon goes, make it relevant.)
I regret to report that they've blown it in very surprising ways. All productions are about the choices the director makes. From its sensational glam-rock opening onward, Mr. Tiffany has made the wrong choices. At least they're bold. Two-thirds of The Bacchae has been turned into—of all things—a camp wannabe Broadway musical.
Look at that first laughably startling image—the rock star entrance of the Scottish actor Alan Cumming as Dionysus. Mr. Cumming is lowered upside down from the flies wearing a gold lamé kilt—a god from the sky, as it were—with his arms outstretched like Christ. And as he descends dramatically to earth with his backside to the audience, we're offered a prolonged view of his bare bum.
Say what you like about Mr. Cumming, he's never been shy. Rarely in the history of theater have so many of us seen an actor's bum so often without sleeping with him. Mr. Cumming's dimpled androgyny and giddy onstage flashing have become his popular trademark—from his insinuatingly bisexual Macheath in The Threepenny Opera to his creepily androgynous sprite with glitter nipples and a swastika on his bum in Cabaret. (I didn't see his recent Trigorin in The Seagull, alas.)
"So, Thebes. I'm back!" he announces happily when his Dionysus has landed and performed a slightly compromising somersault for us. "Man? Woman?" he asks the audience directly. "It was a close-run thing. I chose man. What do you think?"
Och, it's only Alan Cumming! He's the bisexual Braveheart of Thebes who bears a fleeting resemblance to Fiona Shaw. He conveys impish, winking "naughtiness"—not danger, least of all terror. His preening pixie hedonism is unthreateningly camp. This charming man wouldn't harm a fly. Mr. Cumming—as opposed to the avenging god Dionysus—wants to be liked (and usually is)
HIS FLIRTY DIONYSUS lite defines the simplistic production. But is The Bacchae essentially about worshiping sex, glamour and booze—as the director told The Village Voice? That would confine the great play merely to a romp followed by a hangover. What happened to the tragedy's complex themes? Murderous inflexibility and political opposites, the escalating danger of absolute points of view, subversive instinct versus rational control.
Even on its own terms, the new production overplays its hand. Take Euripides' bizarre pivotal scene in which Dionysus persuades his mortal enemy, Pentheus, King of Thebes and warlike advocate of law and order, to wear a dress. The idea is that Pentheus, disguised as a Maenad, will be able to spy on the secret rites of the orgiastic women in the hills (presumably before slaughtering them). The notoriously difficult scene is obviously comic—but is it simply, as Mr. Cumming's Dionysus explains in a glib aside, "When young men get drunk, don't they just love to put on dresses?"