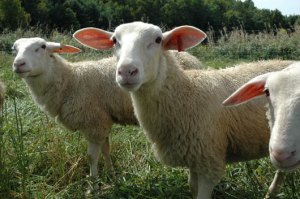 For years, Dannon has marketed its primary product, yogurt, via the "fruit on the bottom"—because no one really cared what was on top.
But suddenly, everyone cares. Yogurt is slathering the city!
Artisanal versions—full of creamy flavor, but relatively low in fat—are appearing in savory dishes at high-end restaurants all around town. At Craft on 19th Street, an appetizer of pork belly sauced with yogurt goes for $16. ("It has the bite of goat cheese, but it's much lighter," said James Tracey, the chef de cuisine there.) Per Se paired duck foie gras with a yogurt mignonette recently on its $275 tasting menu. And at Le Bernadin, you'll find cod finished with a simple yogurt sauce on the prix fixe menu ($109). Momofuku recently topped its apple kimchee and bacon with labne, a Lebanese yogurt that is strained to achieve cottage cheese consistency. And at Park Avenue Summer, a watermelon cube is topped with yogurt, microbasil and a dot of harissa for a charming little amuse-bouche. Yoplait Whips, it ain't.
"Yogurt is becoming more prominent," said Park Avenue executive chef Craig Koketsu, who has used the stuff at his restaurant in everything from potato latkes to a baby beet salad. "It's fueled by two trends. One toward more artisanal products and the other toward healthier foods."
New Yorkers have also developed a private taste for imported yogurts, which tend to be higher in protein and creamier in texture. Skyr, an Icelandic yogurt distributed by Whole Foods, is one new entrant, but the market is led by the Greek brand Fage [pronounced FAH–yeh], whose thick, tart yogurt is suddenly stocked everywhere from supermarket chains to corner bodegas. The brand's sales were up 50 percent last year.
Like American versions, Greek yogurt is warmed and then supplied with active cultures that give the stuff its sour undertones and consistency. But the Mediterranean concoction is then strained, which eliminates the whey and lends a thickness that is closer to flan than cream.
New Yorkers are also finally coming around to the attributes of the bacteria found in yogurt, best exemplified by Dannon's Activia, a line of "probiotic" yogurts launched in the U.S. in 2006 that helps regulate people "with slow transit." Think fruit on the bottom that helps your bottom.
"In the past three years, there's been a new enlightening around yogurt and its benefits," a Dannon spokesman said, adding that U.S. sales for the Activia brand topped $100,000 last year. In April, Saturday Night Live's Kristen Wiig, playing the brand's spokeswoman in a fictional ad for the product, eats too much yogurt and hilarity (a.k.a. incontinence) ensues. "Hell yeah," she said, downing her 16th cup. "I'll sit on this couch and eat this yogurt that makes you crap."
The city is also (soft-) serving as a battleground of sorts for what one might call the Fro-Yo Wars: brands like Yolato, Pinkberry and Flurt competing for our seemingly insatiable taste for low-fat frozen desserts. Nearly 30 new stores have opened in the past few years, pushing out traditional ice cream shops and dustier enterprises like Tasti D-Lite.
This confluence of trends has oozed up to the highest echelons of the city's restaurants, where yogurt has become the ultimate representation of the way we eat now: It's healthy, locally sourced, imbued with international credibility, reinforced by new products in the mass market, and a chameleon in the kitchen. On current New York menus, yogurt stands in for vinegar, sour cream, blue cheese, mayonnaise, cream and crème fraîche.
Le Bernardin chef Eric Ripert uses nonfat Swiss yogurt in lieu of cream because it keeps its silky texture under heat. Mr. Koketsu likes yogurt because it is a lighter alternative to other fats. "Yogurt has a depth of flavor in between cheese and sour cream," he said. "For me, it's all about the acid in it. It keeps the palate awake."
Karen Weinberg, proprietor of the 3-Corner Field Farm upstate, produces yogurt from organically raised goats; she claims it tastes nothing like the store-bought cow's milk kind. "Totally different qualities," she said, citing the natural creaminess of goat's milk and the animals' grass diet, which imparts a certain herbal quality.
Her product is a big hit at the Union Square Greenmarket, where customers load up on $12 quarts at the height of yogurt season (March: who knew?). "People get addicted to it," she said. Local restaurants also source from Ms. Weinberg, including such farm-to-table institutions as Blue Hill and Mas.
"Everyone used to eat yogurt as part of this diet. It was this sacrifice," she said. "Now you eat 6 ounces of this new yogurt and feel like you ate something satisfying."
bthomas@observer.com