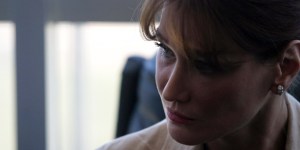 French first lady Carla Bruni reportedly is of two minds about her marriage to the French president, Nicolas Sarkozy, and its effect on her pop music career.
"If people don't listen because I married the president of the republic, I understand," she said of her new album, Comme Si De Rien N'Etait (As If Nothing Happened), in a pre-release interview in Paris this morning. "If they do listen because I married the president of the republic, I will be delighted." 
Ms. Bruni knows how to walk the fine line between minx and missus. A Jackie O look-alike who met the Queen of England in a conservative Christian Dior gray suit and pillbox hat, the 40-year-old has had lovers including Eric Clapton, Mick Jagger, Jean-Paul Enthoven and his 26-year-old son, Raphaël.
"It is 2008. Women often keep their jobs when they marry, even when they marry someone with such an important job as my husband," said Ms. Bruni of her music career.
But when asked about releasing a fourth album, she said, "I don't know if I will be able to write an album between now and 2012," when Sarkozy's mandate ends. "If I manage to, I would be lucky."
"If I give enough to my new role, in terms of what I can really do to help other people, would that not take up all of a person's time?"
The album–which you might remember contains the lyrics dedicated to President Sarkozy in which she threatens to roll him up and smoke him–comes out in France on Friday.