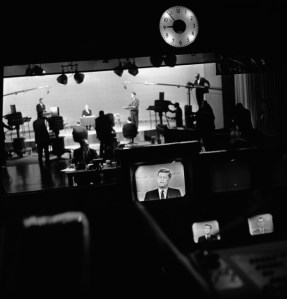 During the prolonged political primary season this year, CBS News was the only major American commercial network news division not to successfully sponsor a single debate. But it looks like CBS execs are trying to get an early jump on the general election.
To wit: yesterday Veterans for Common Sense–a consortium of military and veteran nonprofit groups–announced that they are teaming up with CBS News to sponsor and produce a town hall forum, focusing on issues facing the military and veteran communities.
According to yesterday's release, CBS News and their partners have invited Senators Barack Obama and John McCain to participate in the event, which would take place at the Bell County Expo Center in Belton, Texas (near the Fort Hood military base), at 9 p.m. on Monday, August 11. The forum would be broadcast by CBS in prime time. Presumably, Katie Couric would play a role in moderating the forum.
It would be her first chance to moderate a live showdown between presidential candidates–that is, if it happens.
Recently, ABC News teamed up with Mayor Michael Bloomberg to invite the candidates to take part in a town hall forum here in New York City to be moderated by Diane Sawyer. Both candidates quickly shot down the idea, suggesting that they would prefer to participate in town hall meetings that (like those sponsored by the Commission on Presidential Debates) would be broadcast on all the major networks simultaneously.
Likewise, back in April, Google executives in Washington invited the senators to participate in a town hall forum that would take place in New Orleans in September. Roughly three months later, the candidates have yet to accept the invitation.
All of which makes the likelihood of CBS News pulling off the town hall forum in Texas something of a long shot.
More from the release:
A diverse group of non-profit organizations dedicated to serving active military, veterans, their families and their survivors has come together to invite the Republican and Democratic presidential candidates to Fort Hood, Texas, for an in-depth discussion of the increasingly complex issues facing America's military and veteran community. The CBS television network has agreed to produce and broadcast the town hall meeting in prime time that evening.
Fort Hood is the largest U.S. military installation in the world and deploys the most soldiers to Iraq and Afghanistan as part of our continuing Global War on Terror. Consequently, the Consortium cannot imagine a more appropriate audience-or a more compelling location-for this event.
"Veterans for Common Sense is pleased to be a part of this historic effort during a time of two wars to place the needs and concerns of our service members, our veterans, and their families in front of the presidential candidates and the American public," said Paul Sullivan, Executive Director of Veterans for Common Sense and one of the members of the Fort Hood Presidential Town Hall Consortium.
This Consortium represents organizations that provide services and support to our service members, veterans, wounded warriors, and their families. "We believe if there is one more debate or town hall before the general election, it should be before an audience comprised of the men and women whose service and sacrifice ensure that these events continue through their defense of our country and of our Constitution," said Carissa Picard, lead organizer and military spouse.