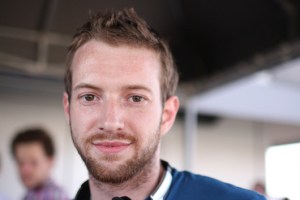 "Celebrichauns are people who think they are celebrities," said Charles Forman, the 28-year-old founder of the cheerful social networking-slash-gaming site iminlikewithyou.com (motto: "play games. meet people. hang out."; Mr. Forman is a man most comfortable in the lower case). He gestured at a slide with photos of Paris Hilton, Lindsay Lohan, and Kim Kardashian. "They do nothing. They have no value whatsoever."
The audience laughed, slightly uncomfortably.
"These people are basically start-up groupies," he continued. Mr. Forman has brown hair and brown eyes, and wore a navy blue polo shirt and olive khakis. "Founders are their rock stars—your Alexa rank equals their self-worth. They will blow your IT just to get to you."
Mr. Forman's iPhone-toting audience on Tuesday evening was assembled at Tribeca bar M1-5 for Ignite NYC, a symposium on Web culture. Several presenters had preceded Mr. Forman, speaking for no more than five minutes on topics like "NYC's Startup Scene: Where are the geeks?" Mr. Forman's discussion was called "How to Date Celebrichauns with Cyber Fetish."
Many in the audience were undoubtedly aware that Mr. Forman's most recent girlfriend was the Web personality and recent Wired cover subject Julia Allison, who sat in the front row, sporting a new hairstyle. Along with her constant companions Mary Rambin and Meghan Asha, Ms. Allison has recently started a Web venture called NonSociety.com, which chronicles the threesome's adventures hitching rides on private jets and their attempts to land geeky boyfriends. (Ms. Allison also has a personal blog, a Twitter, and a Facebook page, as well as a dating column in Time Out New York.) Ms. Allison and her sidekicks are also starring on a reality television show on the Bravo network, which is tentatively called IT Girls. Last year, when Ms. Allison was dating Jakob Lodwick, another Web entrepreneur, the pair thought it would be a good idea to chronicle every aspect of their relationship on a blog called JakobandJulia.com. Needless to say, that ended badly.
Needless to say, it was abundantly clear to whom Mr. Forman was referring.
"Celebrichauns are self-absorbed, self-perpetuating, empty inside, and 97 percent disappointment. … They don't pay for shit! Celebrichauns have their own trust funds—them having you pay for stuff is just their power over you," said Mr. Forman, as slides raced by on the screen.
"Sexual side effects may occur—like not having any!" said Mr. Forman. Ms. Allison, who has made repeated public claims of prudishness, might have been smirking. Several members of the audience stared into their beers.
"This joke is basically centered around Julia Allison," Mr. Forman concluded. "The smartest person I've ever met, the most beautiful person I know … Sorry things didn't work out. I love you." Mr. Forman came to the edge of the stage and Ms. Allison hopped up onto it. They embraced and kissed as the audience cheered.