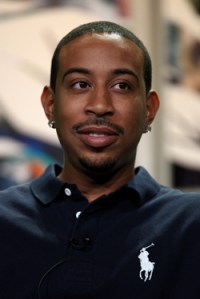 Susie Tompkins Buell, a former Clinton bundler who has persistently criticized Barack Obama since he won the Democratic primary, is incensed about a new Ludacris song that praises Obama but also uses salty language and refers to Hillary Clinton as a "bitch."
"I think it's an opportunity for Senator Obama to stand up," said Buell, who is not a regular Ludacris listener. "I have not heard it, I have seen certain quotes from this, I don't know, do you call them songs? What do you call it?"
"It's just unacceptable. If it's true that he is on Senator Obama's iPod quite a bit, he's got to distance himself. Because this guy is very disrespectful and misogynist about women. It's not acceptable."
"It's really kind of scary when you get down to the pardon stuff," she added.
("Said I handled his biz and I'm one of his favorite rappers," raps Ludacris. "Well give Luda a special pardon if I'm ever in the slammer.")
I asked her if it was at all realistic, or reasonable, to demand that Obama distance himself from someone who has absolutely nothing to do with his campaign.
"I think that he has to say something about it, because it's also a chance for him to say something. I'm looking at the words right now. 'Hillary hated on you so that bitch is irrelevant.' That is unacceptable. If Senator Obama has any kind of relationship — this is such an endorsement of Obama, this whatever it is, this rant — he's got to do something about it. If he doesn't, it just encourages it. "
Separately, bundler Yashar Hedayat said, "Obama has said he [Ludacris] is in his iPod. Obama has talked about personal responsibility a lot in the past month. In fact, Jesse Jackson was ranting and raving about that. So this is a chance to say, 'You know what? This is not the kind of stuff we need.'"
UPDATE: Duly condemned.