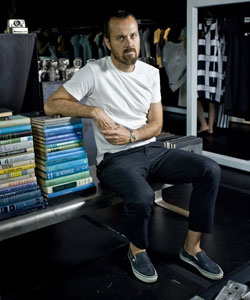 Rogan Gregory's new clothing store at Bowery and Bond Streets is announced by the crumbling signage of the business that preceded it: the Bouwerie Lane Theater. The designer's name appears, hologramlike, in the glass window over the door, but only if you squint.
"People are like, 'Oh, the theater!'" said Mr. Gregory the other day, rolling his eyes at anti-gentrificationists, who also raised a stink about John Varvatos' takeover of nearby CBGB. "I mean, bless their hearts." But befitting New York's never-ending cycle of commerce and culture, the well-worn building was originally a bank.
Mr. Gregory had appeared moments earlier on his skateboard (his preferred mode of transportation between his Chinatown apartment and Tribeca offices), wearing a white T-shirt from Loomstate—his newish 100 percent certified organic fashion brand—a neatly trimmed beard, Vans sneakers and sunglasses, his longish hair slicked back. He looked like a lean, East coast version of a surfer dude—which, he explained, he is. "I have a place in Montauk. I can't wait to go tomorrow. I have so much work to do this weekend, but there's the hurricane coming and there's gonna be surf. I can't stop thinking about it."
Mr. Gregory, 35, often surfs with his good friend and business partner, Scott Hahn, with whom he started Rogan in 2001, following it up with Loomstate (2004) and Edun (2005), a socially conscious collaboration with Bono and his wife, Ali Hewson, that he bowed out of this past January. "It ended up being way, way too much for me to handle," Mr. Gregory said. "We needed to do our thing."
Thus far this has meant aggressively casual, monochromatic clothes for both sexes, like the jeans ($250 and up), sloganed T-shirts (up to $62) and slouchy sweaters (a bit over $200) that hang at the Bowery store amid many other creations by Mr. Gregory: black canvases layered with gobs of black and white paint; a huge chandelier made out of stage lights; and simple, industrial tables and chairs. He had even affixed black tape to the floors to give the space some "dirt," he said. "Artist is a vague, general term, but I don't know what else you could call this stuff," he went on, surveying the room. "I make things—everything from furniture to these surfaces. I just create stuff constantly." His hobbies include making sculptures and gardening.
Mr. Gregory is a new kind of downtown creature. Like Freeman's owner Taavo Somer, who is credited with bringing taxidermy back to New York, he is not just a fashion designer, but a self-appointed one-man aesthetic revolution: part taciturn popular kid, part urban philosopher. But it's hard to be "underground" when you have clothes to sell. Mr. Gregory said he is "not very retail-friendly," and has kept his stores incognito on purpose, because he himself prefers to discover places.
A couple weeks ago, he opened an exhibition of sculpture by R.E.M.'s Michael Stipe—involving obsolete technological objects like the cassette tape and the Diana camera bronzed and piled on tables—with a party at the new store. The heat was punishing, and a motley assortment of 20-somethings in bandanas and T-shirts, artfully washed jeans and intimidating footwear spilled outside to the Bowery. Artists and rockers in attendance included a Beastie Boy, the drummer from Interpol, and Coldplay singer Chris Martin—who chatted outside with his wife's brother, Jake Paltrow—as well as artists Jeff Koons, Michael Halsband and Terrence Koh.
"Michael turned me on to Rogan," said Ken Friedman, owner of the Spotted Pig and a former record industry exec, arriving in Rogan jeans with newly minted Food Network star Anne Burrell. "I was wearing Levi's, and he said, 'You've gotta try Rogan; they'd look great on you!'" Nearby, Jane Pratt, the former magazine editor and another friend of Mr. Stipe's, chased her daughter Charlotte around in a Rogan T-shirt that said something about paranoia. "Michael has the same one in white," she said. Sam Fogarino, of Interpol, proclaimed himself another of Mr. Stipe's Rogan converts: "I was holding onto my wallet thinking it was gonna be the clothes," he said, "but it's set up to be a really cool place to hang out, and everything's for sale." He then bought a lamp.
Mr. Stipe declared that "Rogan as a designer is in my top three."
In addition to creating a safe space for rock stars to express their inner consumer, Rogan, a company that employs 30 people, is perhaps the high-end designer most closely associated with eco-fashion, despite the fact that his namesake line is only partly organic.
Mr. Gregory traces his concern for the planet back to his parents, who raised him in Colorado and Ohio, moving him overseas when his father, a sociology professor, won a Fulbright. "It's definitely given me perspective on the plight of the world," he said, adding that compared to his sister, a Peace Corps volunteer, "I'm more of a capitalist."
His innovation with Mr. Hahn has been to smooth once-nubby organic fabrics and bring them into the same building with $1,200 Prada boots. "We've pushed the tastemakers in that direction," said Mr. Gregory.
Julie Gilhart, fashion director of Barneys, which debuted the inevitable Rogan for Target line for three days in May, called Mr. Gregory and Mr. Hahn "the origins of the movement in fashion. There were already eco-brands existing, but their all-organic collection, Loomstate, was the first, in my opinion, that had real style and thought behind it," she said. "It totally inspired Barneys to move in that direction."
"I don't think the overriding thing with his line is that it's organic cotton," said Brian Cousins, co-owner of Brooklyn men's boutique Hollander & Lexer, which sells Rogan, citing instead "the design elements, the fact that it's locally made, that it's not in every store you walk into." He added that the designer makes "hard blacks that are designed to fade over time. It's a very urban New York kind of look."
Also: "He doesn't do a fashion show and he doesn't do a lot of promoting," Ms. Gilhart said. "A customer still feels like they have discovered something."
Mr. Gregory stressed, however, that he doesn't want anyone to buy his clothes out of "guilt." He said his vision is part concern for the natural world ("I don't like eating wild animals") and part nostalgia for simpler times, which helps explain the move to the Bowery, which he said has "heritage, all that other shit."
"The certificat
ion, it's tricky," the designer said of his organic labels. "We get a piece of paper that says all of our cotton is certified. But we don't go to every field. All of our vendors we have to trust. It's not a perfect system. And the more legitimate demand for it, the more there are going to be people trying to cheat the system."
He conceded that trying to be environmentally conscious in the inherently disposable and frivolous business of fashion can be challenging. "It is a burden," Mr. Gregory said, "because it'd be nice to not have to—honestly, it'd be nice to not have to be concerned about everyone else."
mbryan@observer.com