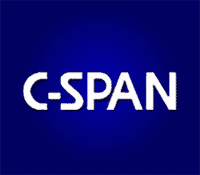 Today, C-SPAN executives announced their plans for covering the upcoming Democratic and Republican coventions. According to the press release, C-SPAN will be spicing up their gavel-to-gavel wonkery with smaller cameras to give viewers a "delegate's eye view" of the excitement.
More from the release:
All C-SPAN outlets—television networks, online, and radio — will feature two weeks of convention programming, frequently live, of the Democratic and Republican National Conventions. Viewer calls and reactions to the events of the day will follow each day's floor coverage.
C-SPAN will also have LIVE coverage of Platform Meetings for both parties. The Democratic Platform Meetings will be on C-SPAN on August 9, 10:00 am – 6:00 pm ET and the Republican Platform Meetings will be on C-SPAN 2 on August 26 and 27 from 9:00 am – 7:00 pm ET.
The network will incorporate small cameras into its traditional long-form style, using Skype technology and portable flip cameras, allowing viewers to experience the convention atmosphere beyond the official sessions.
"Political party conventions remain interesting to the millions of Americans who follow national politics. Convention speeches become previews for future generations of national leaders. Barack Obama, Bill Clinton and Ronald Reagan were all keynote convention speakers prior to their national runs," said Susan Swain, President, C-SPAN.