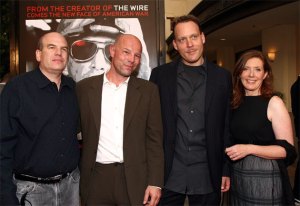 Last week, former New York Times Hollywood reporter Sharon Waxman ran an item on her WaxWord blog about HBO's new mini-series, Generation Kill and if Evan Wright, the writer of the Rolling Stone articles and subsequent book upon which the series is based, might be losing some credit for the adaptation of his work. As Waxman wrote:
The series, debuting next Sunday, is a hard-driving, non-fiction tale of Marines on the front lines in Iraq, and it is drawn directly–in some scenes word for word–from the award-winning book of the same name by Evan Wright. Wright is credited as a consulting producer on the seven-part series, and has credit on two of the scripts. But he tells me that in fact he also wrote about '50 percent' of the scripts on which [producer David] Simon and his collaborator Ed Burns have credit, and that he had to fight for the credits he got. 'There was a lot of friction over credit issues,' Wright told me today.
She went on to quote David Simon—creator of HBO's heavily-laureled series, The Wire—as responding to Wright's statement: "If he told you that, he's genuinely incorrect… Nobody wrote any of the scripts by themselves. There's stuff in Evan's script written by me and Ed. There's stuff written in total by me and Ed. There's stuff in our scripts written by Evan. That's what happens in every serialized show."
Whatever disagreement the two men might've had seems to have been ironed out. In today's Los Angeles Times (yes, they're still putting out a paper despite all the turmoil), Scriptland writer Lynne Smith quotes Mr. Wright as saying, "All of the credits in this are appropriate to the work that everybody did who was involved."
Ms. Smith also quotes Mr. Simon as saying, "I would not try to do this alone. I have never had military service and Ed was in Vietnam but with the Army. That's two generations removed from 'Generation Kill.' And neither of us had been to Iraq. I said, 'I will only do this project if Evan will stay involved.'"