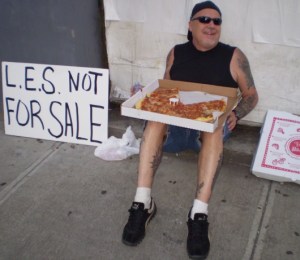 Folk singer David Peel was leading a crowd of protesters in a singalong of his charming ditty "Die Yuppie Scum" on Friday evening, when suddenly the rebellious crooner experienced a moment of clarity.
"What are we doing over here?" Mr. Peel asked. "Where are the apartments?"
A few doors down, it turned out.
Demonstrators had intended to gather outside an apartment building at 47 East 3rd Street, owned by controversial landlord Alistair Economakis, who has been trying to uproot its rent-stabilized tenants for years in order to create a sprawling manse for himself and his family.
But they ended up in front of a different building closer to Second Avenue, where police had cordoned off a designated protest area.
"Everybody start chanting, 'Expand the protest area! Expand the protest area!'" Mr. Peel said.
"And more cupcakes!" demanded another protester.
"More donuts for the cops!" added another.
Indeed, this latest demonstration by the so-called Lower East Side Slacktivists, a rag-tag group of crunchy locals railing against the neighborhood's sweeping gentrification, featured perhaps the best spread of refreshments of any radical rally in recent memory — donuts, cupcakes, and at least five pizzas donated by Two Boots pizza chain honcho Phil Hartman.
"A gentrifier," one protester pointed out. He then clarified, "Well, a sort of bohemian gentrifier."
Mr. Hartman, also proprietor of the shuttered Mo Pitkin's bar and live music venue, was the founder of the neighborhood's beleaguered Howl festival, which for years celebrated the area's countercultural roots before abruptly collapsing in 2006 amid mounting debts. (The event is back on this fall.)
As one critic of Mr. Hartman's once told the Village Voice: "The original mission … was partly to stop this flood of expensive bars and restaurants coming into the area… But then Phil builds Mo Pitkin's, and the contradiction was clear. Phil turned out to be the gentrifier."
"He's a controversial guy, but I like him — he gave us five pizzas," rally organizer John Penley said of Mr. Hartman.
Mr. Penley further suggested that Mr. Hartman may himself become a victim of gentrification: "He's having trouble, man, he's going to lose some of his locations because he can't pay the rent!"
UPDATE: Mr. Hartman responded via email: "It's not easy for anyone doing business in NYC these days…it happens that a bunch of my leases are up right now, and it's tough dealing with landlords' expectations, but we'll be fine."