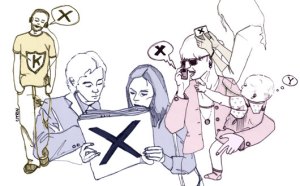 Slackonomics: Generation X in the Age of Creative Destruction
By Lisa Chamberlain
Da Capo, 212 pages, $25
In Slackonomics: Generation X in the Age of Creative Destruction, Lisa Chamberlain examines the changing cultural and economic landscape that has defined—and been defined by—Generation X's reluctant, late-onset adulthood. The elusive subtitle is the first hint of the economic vagueness to come. (After 188 pages I was still unsure of the precise meaning of "creative destruction," which—and I am frantically thumbing through my copy of the book here—was used by the economist Joseph Schumpeter to refer to the process by which a capitalist economy constantly destroys and reinvents itself. See?) Ms. Chamberlain argues that the original slacker generation, having resorted to hobbylike, nontraditional creative pursuits (i.e., not their parents' idea of a job) when they came of age in a slumping job market, used economic instability and freedom from corporate constraints to their personal and social advantage, becoming happier, more balanced and more fertile—though still poorer—than their boomer parents.
As it happens, Ms. Chamberlain's book idea was spawned in this paper, for which she wrote an article titled "Generation-X: Born Under a Bad Economic Sign" in 2004. Her outlook seems to have brightened considerably since then, though her scope remains narrow: She defines Gen Xers as "born in the mid-1960s through the 1970s, and grew up mostly in middle-class suburbs through the 1980s." The Xers she quotes (between well-worn "slacker" touchstones Reality Bites, Nevermind, Say Anything and Beck's "Loser," not to mention the Ethan Hawke-starring Before Sunrise and Before Sunset, an examination of which consumes nearly an entire chapter) are mostly urban creatives nurtured in the Midwest, products of divorce and "sugary cereals" and "after-school specials," with improvised career paths and a much higher chance of spending a year in poverty than their parents ever had. (Lest you wonder about Ms. Chamberlain's Gen-X bona fides, she thanks East Village Xer-infested coffee shop Mudspot, "the best café in the world," in her acknowledgements.)
Her points often feel well-trod, and I found myself occasionally writing "duh" in the margins, as when she asserted that in the new economy, "friendship and social ties have become increasingly important for professional development, idea exchange, innovation and creativity." Luckily, the book picks up speed as it moves away from sweeping generalizations about late-20th-century economic forces (this book was not written by an economist, or for economists—Ms. Chamberlain is better on the intangibles) and on to the lifestyle those economic forces wrought, which include later marriage, better work-life balance, more stomach for risk, higher rates of happiness borne of more realistic expectations, and an enviro-friendly rejection of the McMansion in favor of urbanism.
Ms. Chamberlain also reports that despite plunging international fertility rates, "educated women in their thirties who earn a decent living not only are far more likely to get and stay married, they are also having more children than the average," thanks to broadened gender roles that have increased men's household contributions. She puts Xers' commitment to marriage and childbearing at early 1960s levels (a visit to Park Slope would seem to bear that out).
Ms. Chamberlain claims economic instability has made Gen Xers practical problem-solvers, and that they're bettering their parents' luck with long-term commitment: "[There] has been a statistically significant increase in a couple's chance of staying together, starting in the 1990s," she writes. Of course, she then quotes a semi-repellent Xer, Grant, who sets out to find a wife "with good genes," because he knows romantic love doesn't last. He finds Amy, they see a counselor to take mental health tests to determine "our blind spots in terms of compatibility," and soon they're married with children. "It's not perfect, but for what my goals were, it totally worked," he says. Ew! (Maybe that's my Gen-Y idealistic narcissism talking).
Indeed, the "real" Gen Xers she offers up, quoting their life stories at length, tend to slow rather than propel the text. It's hard not to roll your eyes at Lyz Bly, who grew up in Ohio and "is now earning a Ph.D. in gender and culture studies, and recently adopted a girl from Guatemala":
"[To] be faced with the fact that I couldn't find a job and pay my bills after getting a master's degree … It makes you feel like you aren't an adult. There was this moment when we embraced the little girl aesthetic, Hello Kitty and stuff like that. … So the riot grrrl scene came along, with lyrics like 'white boy, don't laugh, don't cry, just die,' and Kathleen Hanna was singing it in a miniskirt and tattoos. It was this huge release valve."
Are you surprised when you hear that a Gen-X couple, Liz Kooy and her husband, found "milquetoast suburbia" to be a "conformist hell"? Or that they've have moved to Chicago's West Loop, "where they are now raising their two sons, Zane and Cael"?
You'd be forgiven for feeling like these people's lives have been documented extensively elsewhere, both by novelists-memoirists like James Frey, Elizabeth Gilbert and Dave Eggers and in articles like New York magazine's piece on Grups (hoodie-wearing parents who refuse to grow up). In fact, if you live in New York, you may feel you already know them, their motivations and struggles and psychological conditions and the type of entrepreneurial, creative, improvisational multimedia work they do, and the kind of music they listened to back in the day.
In fact, you may be tired of them.
Meredith Bryan is a reporter at The Observer. She can be reached at mbryan@observer.com.