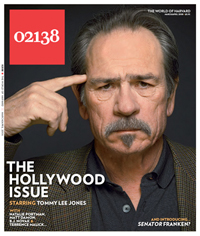 In May, Manhattan Media, publishers of the New York Press, City Hall, and other local New York papers, acquired 02138 and announced plans to reposition the Harvard lifestyle magazine.
Today, another release touts several hires at the magazine. George Lois, creator of Esquire's most iconic magazine covers of the 1960s and Pentagram's Luke Hayman have been tapped to redesign the magazine. Jamie Hooper, who launched Giant magazine in 2004, will be 02138's new publisher. And David Blum, the editorial director of Manhattan Media and the editor in chief of the New York Press, will become editor-in-chief of 02138 when it resumes printing with its December/January issue.
Mr. Blum, who had previously been editor in chief at The Village Voice but whose tenure there was rocky and brief, has stepped aside from his role at the Press, handing the reins to Jerry Portwood, the paper's managing editor since 2006. Mr. Blum, who'd been top editor at the paper for 10 months, says he'll still be around the Press offices. "I'm just there to help if needed," he told Media Mob.
Mr. Portwood, 31, whose first issue as editor in chief is out now, says one thing he plans to bring to the paper is an outsider's perspective on the city. "I'm a new New Yorker, I am told. I've been here for four years," he said. "I'm not interested in whining about the city. I'm interested in talking about the city to people who are still coming to the city." Mr. Portwood recently hired a new Arts editor, Adam Rathe, late of The Brooklyn Paper.
In taking over 02138, Mr. Blum thinks the magazine can be repositioned as a general-interest publication. "Harvard overlaps with, and connects to, all the important issues of the day and every aspect of culture and politics I can basically think of," says Mr. Blum, who isn't a graduate of the university. (He attended University of Chicago and graduated in 1977.) The editor believes that his lack of time spent in the Yard (or even the Quad!) is an asset. "I've always found that in my career that a certain distance is healthy," he says. "I'm sort of glad that I have an open mind about the whole thing."
When he approached Mr. Lois and Mr. Hayman to "tweak" the look of the magazine and "make it our own," he says he got lucky. "The two people in New York City I most admire in the field of art direction and design are Lois and Hayman."
Mr. Lois, whose work was recently installed at the Museum of Modern Art, hadn't heard of 02138 when Mr. Blum reached out to him, but the 77-year-old former ad man came to the Manhattan Media office carrying a Zabar's bag "with a bunch of his books" and spent four hours talking with Mr. Blum about Esquire in its glory days. "It was surreal," says Mr. Blum, who plans to implement similar single-topic covers as those pioneered by Mr. Lois.
Other 02138 hires include managing editor Daniel Adkison, who'd previously worked with Mr. Blum at The Voice as that paper's copy chief and most recently worked for Portfolio; Greg Atwan, who'd been an associate editor at 02138 has been promoted to senior editor; and Kimberley Thorpe, a staff writer for the Press will also serve as an associate editor for the magazine.
The next issue of 02138 will feature the third iteration of the magazine's Harvard 100—the last of which included everyone from Barack Obama to Conan O'Brien—and will appear in December.