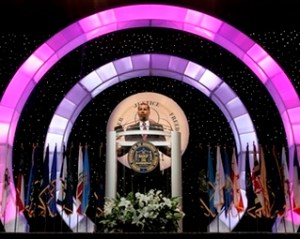 Darren Dopp says the Public Integrity Commission inappropriately contacted members of Eliot Spitzer's inner circle during their investigation.
David Paterson delivered some uncharacteristically strong words on the New Yorker cover.
He also said if Barack Obama loses, it will be a victory for racism.
Charlie Rangel, with characteristically strong words, said he did nothing wrong and blasted the Washington Post.
Gloria Steinem articulated her support for Steve Harrison over Mike McMahon in the Democratic primary for the Staten Island Congressional seat.
Al Gore offered nonpartisan praise for the presidential candidates, as he asked them to set an ambitious goal for energy.
Joe Biden staunchly defended Barack Obama on Afghanistan; Noam Scheiber thinks Biden would be a good running mate.
Bill Clinton said he'll campaign with Obama, and also defended Jesse Jackson.
The Economist has praise for Michael Bloomberg's new method of calculating poverty.
Bloomberg will throw a "welcome back" party for Hillary Clinton.
McCain referenced HillaryCare.
Marty Markowitz's fund-raising has come to a "screeching halt," reports The Brooklyn Paper, a fairly reliable sign he won't run for mayor.
Congressional candidate Dan Maffei has raised more money than any other incumbent or challenger in the Rochester area.