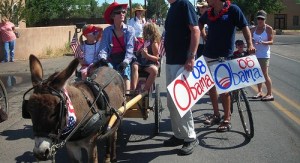 The comment from a spokesman for David Paterson, who is one of Charlie Rangel's rent-stabilized neighbors in Lenox Terrace, on Rangel's rent deal: "We're declining comment."
Barack Obama wants the death penalty for Osama bin Laden.
The Hill reports that Obama will travel to Afghanistan and Iraq with Chuck Hagel and Jack Reed, both considered potential running mates.
The Obama campaign hired Karen Dunn, formerly of Hillaryland.
Obama is blaming Washington for the nation's energy crisis, and tying John McCain to the problem.
Some of the 300 economists said to have endorsed McCain's "Jobs for America" plan didn't read the fine print.
Former Republican Representative J.C. Watts of Oklahoma is holding a fund-raiser for Democratic Representative Ed Towns–which might raise eyebrows among some Democrats.
"Rudy Giuliani deserves a lot of credit," says Michael Bloomberg.
Frank Morano is elated about his father's Congressional bid.
Obama stood his ground after facing criticism for saying American children should learn Spanish.
Think Progress collects a number of notable quotes from Phil Gramm.
Here's Jimmy Dahroug TV.
On the front page of AM-New York, David Friedlander asks why New York hasn't produced any rock-star politicians like Obama (and in a sidebar, features upcoming politicians Micah Lasher, Kevin Powell, Julie Menin, Alfonoso Quiroz and Brad Lander).
Plans to replace the aging, somewhat unsafe Kosciuszko Bridge, which connects Brooklyn and Queens over Newtown Creek, have been postponed, again.
The Bush Administration is denying that they spoke to the German government about Obama's Brandenburg Gate speech, which several German publications have reported.
Nate Silver compiles a list of the astounding number of politicians Obama has been compared to. (via Ben).