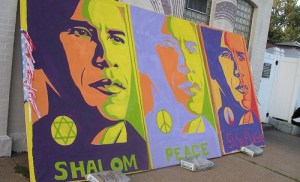 In Israel Obama says,``The world must prevent Iran from obtaining a nuclear weapon."
He also said he is a member of a committee he does not belong to.
He did not discuss the status of Jerusalem.
An Iraqi journalist is disappointed that Obama said nothing to Iraqis.
John McCain hoped to counterprogram Obama's speech in Germany with a visit to an offshore drilling rig! But weather is going to ruin it.
McCain said he did not make a mistake when talking about Anbar province.
The Plank gets a German journalist to explain why Berlin is the perfect city for Obama, and the Victory Column is the perfect setting for his speech.
Plus! Angela Merkel is open to getting a back rub from him. (via Ben)
Speaking to the National Lieutenant Governor's Association, David Paterson said he was "stunned" when he found out he would be governor.
Superlative intern Bharat Ayyar reports that rapper NAS appeared in Midtown today to protest Fox News' coverage of Obama.
Chuck Schumer discussed upcoming Senate races with the Wall Street Journal.
Charlie Rangel formally requested an ethics inquiry for himself.
The M.T.A. fare hike is worse than originally reported.
Sheldon Silver has a campaign web site for the first time Liz can remember.
Yes, Robert Novak really did hit a pedestrian.