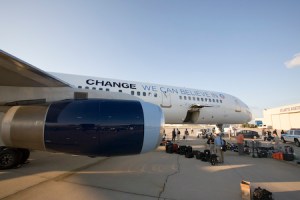 A columnist in the Financial Times endorses Barack Obama for commander-in-chief.
John McCain should definitely know there's no border between Iraq and Pakistan. 
Ben says a lot about today with two pictures.
John Riley also sees some irony in how Obama's overseas trip is shaping up.
Kevin Powell blogs a not-particularly-concise open letter to Ed Towns, challenging him to five debates.
Jonathan Martin reports that the reason the New York Times wouldn't print McCain's op-ed is that it didn't include anything about timetables.
It turns out Obama actually didn't raise $25 million in one day.
Michael Bloomberg is fund-raising for a Democratic Senate candidate in Louisiana.
The McCain campaign owes $1.37 million in credit card debt.
The Obama campaign hired a Muslim liaison.
A blogger at Second Avenue Subway thinks it's a good thing that David Paterson is hanging onto M.T.A. chief Elliot Sander.
The Real Deal reports that Hiram Monserrate is getting lots of money from groups that oppose the development of Willets Point.
The League of Conservation Voters rolled out high-profile supporters all over the country for their endorsement of Obama.