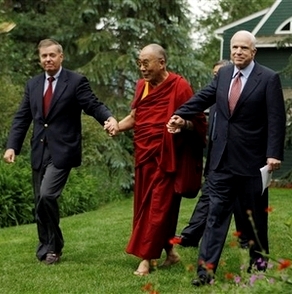 Joshua Mitnick reports that Israelis "were swept up and away" by Barack Obama's visit.
Nicolas Sarkozy "all but endorsed Obama."
At a press conference in France, Obama urged Iran to accept the deal offered by Western leaders.
Obama may be seeing a bounce in the daily tracking polls.
The McCain's old house is on the market for $12 million, and the owner is hoping to capitalize on his fame.
The audacity of hopelessness? Oh, dear.
Obama phoned wounded soldiers in Germany instead of visiting them.
The head of the Public Integrity Commission defends not charging Eliot Spitzer.
He also said the committee may look into "if Spitzer was behind a pattern of obstacles that delayed the initial probe."
Speaking freely now that's he's retired, Joe Bruno says Spitzer was "demented."
Linda Rosenthal and Gail Brewer are worried about a Costco that might be built on the Upper West Side.
Michael Bloomberg makes news in Minneapolis by…not endorsing yet.
Real Clear Politics takes a long look at the possibility of Rudy Giuliani running for governor.
About one minute into this video from the Obama campaign, there's what looks like an Obama dance.
Rock Hackshaw wants Andrew Cuomo to run for mayor.
Errol Louis called Kevin Powell's event this morning "strange."
Jonathan Hicks explains the rift within the Bronx Democratic Party.
Choire Sicha defends the logic of an L.A. Times blog editor's decision to ask bloggers not to blog about the National Enquirer's John Edwards story.
Beaches all around the city are closed because the rain washed too much crap into the water.
A New Jersey legislator is under investigation for having child pornography on his office computer.
The G.O.P. is making (very little) money from their widgets.