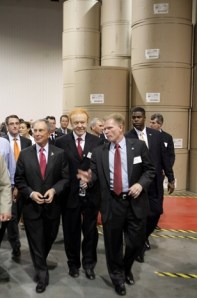 The Plank doesn't find MoveOn's latest ad funny at all.
Bill Richardson is hosting fund-raisers to help Hillary Clinton get rid of her debt.
A whole bunch of progressive types are sending Obama an open letter asking him to stop moving to the political center, and offering lots of help if he doesn't.
Obama is related to Wild Bill Hickok in the same was he was related to Dick Cheney and Brad Pitt.
In an effort to establish "an air of inevitability," according to Jonathan Hicks, Mike McMahon announced yet another endorsement, this time from two labor unions.
Joe Trippi has joined the Congressional campaign of Darius Shahinfar, who is running in the Albany area. 
It's looking more likely that John Catsimatidis will run for mayor.
Conservative Party Chairman Mike Long praised David Paterson's budget talk.
Dean Skelos wants to focus on property taxes. 
Sheldon Silver is hobnobbing with the Freelancer's Union.
Tom Golisano will hold a second press conference on his P.A.C. next week in Albany.
Some Dutch Kills residents are trying to resist the rezoning proposed for the area.
Hillary Clinton is helping Carolyn Maloney promote her book.
Darren Dopp and Herbert Teitelbaum ran into each other in Albany today. Awks!