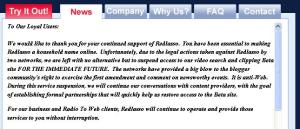 On Wednesday, the Media Mob reported that NBC Universal, Fox News, and the Fox Television Stations group were filing a joint copyright infringement suit against Redlasso—the privately held company that provides users with a search engine targeting video and audio footage from stations and networks around the country.
Today, Redlasso executives informed their site's users that because of the suit, they are currently suspending some services.
Redlasso posted a notice on its Web site today alerting its users to the change.
"Unfortunately, due to the legal actions taken against Redlasso by two networks, we are left with no alternative but to suspend access to our video search and clipping Beta site FOR THE IMMEDIATE FUTURE," the notice reads. "The networks have provided a big blow to the blogger community's right to exercise the first amendment and comment on newsworthy events. It is anti-Web. During this service suspension, we will continue our conversations with content providers, with the goal of establishing formal partnerships that will quickly help us restore access to the Beta site."
"For our business and Radio To Web clients, Redlasso will continue to operate and provide those services to you without interruption," added the notice.
According to Silicon Alley Insider, some Redlasso functions were still working earlier this afternoon "but eventually all links to embedded video will be broken.