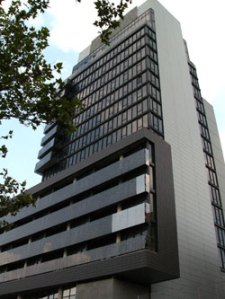 Hotelier Jason Pomeranc has been eagerly looking forward to opening his posh new lodge, the 143-room Thompson Lower East Side at 190 Allen Street. "I think it's going to be a moment in time that will be remembered as kind of when the Lower East Side came of age," said Mr. Pomeranc, 37, co-owner of Thompson Hotels. "I mean, it's been a process, with gentrification and change and growth over the last several years. Usually, that process culminates with a luxury project—like what I believe the Thompson Lower East Side will be—where it integrates the vibe and the flow of the neighborhood but introduces a new audience as well.
"I view a project as successful, like when we opened 60 Thompson, when it inherently became identified with the neighborhood. It became synonymous with Soho. I hope that the Thompson Lower East Side will do the same."
It's a coming-of-age moment that has, for months now, seemed rather elusive.
Originally scheduled to open in "spring 2008"—a rather vague date that still appears on the company's Web site—the modernist, 22-story, Ed Rawlings-designed building, now three years in the making, has repeatedly missed its anticipated launch date, a dubious track record chronicled ad nauseam on the Internet.
Pressed in May about an expected June 2 opening, management instead announced that the hotel was still several weeks away but would begin taking online reservations starting July 15.
Prospective guests who did book a room for that night ultimately had to find other accommodations. Ditto for July 22.
Finally, on July 29, the long-awaited lodge unlocked its doors and began issuing keycards to guests—albeit only on a limited basis.
"It'll be three floors this week, another several floors next week," Mr. Pomeranc said on opening day, "and then before Labor Day, we should have all the rooms online."
The rest of the towering hotel, including a third-floor swimming pool emblazoned with a Gerard Malanga photomural of the late artist Andy Warhol, as well as a new second-floor restaurant from star Toronto chef Susur Lee, won't be open until Oct. 15.
"There are always unforeseen circumstances that cause delays in scheduling," Mr. Pomeranc explained, "but I think that, basically, it's been a smooth process."
Smoother than some of his previous projects, perhaps.
"Twenty-seven months and counting" is how the industry gossip site HotelChatter summed up its extensive "delay-watching" of Mr. Pomeranc's uptown hotel Six Columbus last July, after initial opening dates of "fall 2005" and "summer 2006" passed without the project even nearing completion: "Here at HotelChatter we have tracked many hotel openings, both new constructions and renovations, and this little renovation of the West Park Hotel is by far the longest hotel 'opening' we have ever tracked."
The term "Six Columbus" even earned its own entry in the online Urban Dictionary, defined as "to be infinitely delayed, move incredibly slowly, or be forever shelved."
The hotel finally opened its doors last October.
Mr. Pomeranc has endured a lot of flak over his apparent penchant for procrastination, which has reached the point now that even industry watchers are growing tired of the running joke.
"If he wasn't so rich and successful and surrounded by celebrities and beautiful women all the time, the joke might actually be funny," quipped Joey Arak, senior editor of the neighborhoods blog Curbed.
OF COURSE, Mr. Pomeranc's hotels certainly aren't the only ones to fall behind schedule.
The forthcoming 21-story Cooper Square Hotel, located just a few blocks away on the Bowery, is still shrouded in plywood and scaffolding, despite its prior April 2008 opening goal. The project has been mired in, among other things, community opposition to its sprawling food and beverage program and internal feuding among its developers, Gregory Peck and Matthew Moss.