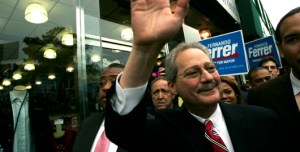 Fernando Ferrer, the 2005 Democratic mayoral candidate, will join Hiram Monserrate in opposing Michael Bloomberg's plan to redevelop Willets Points.
Ferrer has been pretty quiet since losing to Bloomberg nearly three years ago. Monserrate's opposition to the administration's Willets Point plan could result in another defeat for the mayor on a development issue.
From the press advisory:
East Elmhurst, NY – On Thursday, July 10, at 10:00am, Council Member Hiram Monserrate will join with Fernando Ferrer, former Bronx Borough President, outside Queens Borough Hall to call on the Queens Borough Board to vote against the Bloomberg Administration's plans to redevelop Willets Point. Ferrer will join Monserrate and the broad coalition of Willets Point business owners and workers, community leader and elected officials, and community and affordable housing advocates that has developed in opposition to the Mayor's proposal. The board will hold a vote on the plan at a Land Use Public Hearing scheduled to begin at 10:30a.m. in Queens Borough Hall Conference Room on the 2nd Floor.