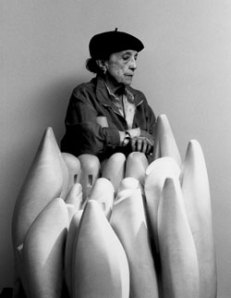 In Edward Albee's The Occupant, a play about the American sculptor Louise Nevelson, a nameless interviewer quizzes the artist on her fame and critical fortunes. He mentions the name "Louise Bourgeois." Nevelson reacts with dismissive hauteur. The implication is clear: The Nevelson character feels threatened by Ms. Bourgeois.
Why, exactly, is left unanswered. Envy over critical status or contemporary relevance might play into it. Maybe it has something to do with image—the "grande dame" thing—or with competition, Ms. Nevelson being one of the few dames to gain a measure of renown. Given that Mr. Albee knew the Nevelson character's real-life counterpart, it's fair, I think, to assume that the Bourgeois snub has some basis in fact, and it set me to thinking about their artistic commonalities. Surrealism is a vital influence for both, and each employs sculpture as a form of theater and as accompaniment to architecture. Not least, there's that pervasive air of mortality—their respective bodies of work don't enlighten so much as sober.
But mortality is also the dividing line. Nevelson's sculptures are regal elegies embodied as boxy accumulations of found objects. Ms. Bourgeois' art is less dignified and more earthbound: Whether crafted in wood, marble or arranged with innumerable artifacts, her sculpture represents the human body as a treacherous burden.
DURING MS. BOURGEOIS' 70-year run of art-making—chock-a-block with emblems of sex and decay, teetering totems, and bulbous viscera—she hasn't always been successful in navigating the divide between art and artifact. At times she manages it with sly brilliance, as in One and Others (1955), a piece in which High Modernism meets backwoods whittlin' for some vaguely scatological comedy. Another of her successes is The Blind Leading the Blind (1947-49), a wooden beam with multiple appendages. It asks the question: What if Paul Klee were a minimalist? The answer is starkly lyrical.
Ms. Bourgeois' debt to the art of non-Western cultures, particularly those in Africa, are put into gratifying light. Twenty or so personages, a series of human-scale totems, are isolated in a side gallery and installed with an eye focused on formal constancy and psychosexual portent. They're unkempt stacks of wood, alternately twisting, clunking, descending and contained—marked by all-too-obvious references to male and female genitalia but also by a droll lack of pretension. The Guggenheim exhibit gives short shrift to Ms. Bourgeois' recent return to the motif in works using tattered pillows and tapestries—they're just as good and maybe better—but the museum does right by the personages.
MS. BOURGEOIS' FASCINATION with the body, or, rather, its failures, has become increasingly literal. Disembodied appendages, mutilated genitalia, rubbery breasts, congealed orifices, turdlike shapes and surfaces—cruelty and the abject turned purely aesthetic: As much as she may slice and dice the human form, however repulsive the work becomes, Ms. Bourgeois can't help but advertise her elegance.
A wicked strain of coyness filters through the work, almost as if she's too cool to care. Indeed, writing in the exhibition catalog for "Louise Bourgeois," a retrospective at the Guggenheim, Ann Coxon, curator at Tate Modern, marvels at how the 97-year-old Ms. Bourgeois has been considered a contemporary "by at least three different generations." It isn't just longevity, explains Ms. Coxon—there are plenty of creaky artists busy in their studios—but rather "the scope of [Bourgeois'] practice … rooted in her personal experience … personal meaning and history" and a "complex personal mythology."
Ms. Bourgeois' most engaging work is often her silliest. She gets a lot of mileage out of phallic objects. Noir Veine (1968) is a cluster of smoothly honed phalluses slowly ascending from a rough-hewn chunk of black marble; it's too dumb to take seriously but too evocative to dismiss. Sleep II (1967) is a priapic homage to Brancusi and his longtime fascination with the relationship between the sculpture and its base. He-men will shudder at the sight of the gnarled and disembodied penis that is Fillette (1968), but the aptly titled Labyrinthine Tower (1962) gives the male organ a whimsical deference—Ms. Bourgeois has made a mountain from it.
Most of the time, Ms. Bourgeois is a ham—she milks creepiness for all it's worth and waits for the applause. She makes peep-show "cells" from weathered doors; squeezing into them, we see beakers, bedpans, medical instruments and other dilapidated bric-a-brac. You might also find a guillotine, children's clothes on a meat hook, blood-red skeins of yarn, a blood-red palette, blood-red hands, a blood-red bed—a lot of blood-red stuff. Elsewhere, life-size sock-puppets, one with a prosthetic leg, fuck inside a glass case. The hamfisted sex-and-death is endless. Come on, Louise, you think, give us a break!
Much is made of the affair Ms. Bourgeois' father had with her English tutor and the effect it had on Ms. Bourgeois' childhood and subsequent accomplishments as a sculptor. So much is made of it, in fact, that the art can seem less important for itself than for how it reveals aspects of the artist's psyche. Given the erratic trajectory of the oeuvre, it's a backstory that became an excuse—and Ms. Bourgeois plays it for all it's worth.
"Louise Bourgeois" is at the Guggenheim Museum, 1071 Fifth Avenue at 89th Street, until Sept. 28.
mnaves@observer.com.