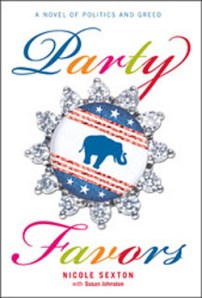 On Tuesday, July 29, an uptown crowd of socials gathered at Michael's to celebrate a new book called Party Favors: A Novel of Politics and Greed, about the corrupt ways of Washington, D.C., political fund-raising.
The author, Nicole Sexton, spent 15 years in Washington as a Republican Party fund-raiser working for the likes of former Virginia Senator George Allen, North Carolina Senator Elizabeth Dole and publisher Steve Forbes, when he ran for president in 2000. Ms Sexton has since departed for a more do-gooding role, working for Bono's One Campaign against global poverty and AIDS, but not before she wrote the novel–which she described as "Legally Blonde meets Thank You For Smoking"–based on how she went from a naïve White House intern to a disillusioned G.O.P. insider.
"There have been comparisons to Scott McClellan, which I haven't appreciated," said Ms. Sexton, who was seated at a white-clothed table in a bell-shaped chiffon cocktail dress. "There are stark differences between us. When I was feeling uneasy or uncomfortable, I was very vocal about that while I was on the job. I don't know him, but from all accounts, he left on good terms and never said a word, and then wrote a tell-all that pointed fingers. I don't think that's fair.
"It's definitely caused a little sting among former colleagues," Ms. Sexton continued. "But once I let some people read it and talked with everybody, it's mostly been resolved."
For a novel about political corruption, the gathering was more uptown glitz than suited-up policy pushers. And everyone seemed to know Ms. Sexton through her mother, Marlyne Sexton, widow of the late Joseph Sexton, who founded Sexton Properties in Indiana. After her husband's death, Mrs. Sexton decided to relocate to New York, joining the social ranks of Somers Farkas and Margo MacNabb, who co-hosted the party.
"I needed a new direction and I thought that New York would be a good place to do that," Mrs. Sexton told the Daily Transom.
"The biggest attraction for the book for me was that it was written by Marlyne's daughter, Nicole," said Ms. Farkas. "And then because it was about politics." Ms. Farkas, who called herself a "fiscal conservative, but a social liberal," said that she has done some fund-raising of her own as an active board member of several Manhattan charities, and once raised money for a family friend who was running for a Senate seat. "I loved it!" she said.
Standing near Ms. Farkas was the actress Kathleen Turner, who said that she was invited by her close friend Ms. MacNabb. "She knows that these things are very dear to my heart—the whole idea of political intrigue, I love that stuff," Ms. Turner told the Daily Transom.
But she too was offended that some media outlets have compared it to Mr. McClellan's nonfiction title. "Scott McClellan was a liar to begin with. Otherwise how would he be able to have done that job?" she said. "I don't intend to read his book"
Also making an appearance was Lauren Bush, who made a beeline for a copy of the book and immediatly excused herself, blaming the urgent departure on some sort of eye infection. (Photographer Patrick McMullan instructed her to turn as he snapped a photo, to hide the thing.)
The Daily Transom found Broadway producer Marty Richards mingling with guests by the bar. "I think the book is terrific, but it could be hotter and sexier!" he said. "It would be a great HBO and Showtime series. I told her, don't be afraid to dirty your hands, but she's too classy for that."
We wondered how Mr. Richards came to know Ms. Sexton. He confessed: "I date her mommy."