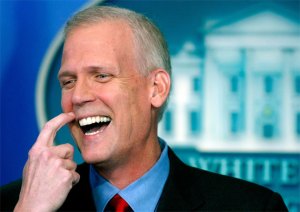 On Saturday morning, conservative commentator and former White House press secretary Tony Snow passed away from cancer. He was 53.
Over the course of successful career in Washington, Mr. Snow toggled back and forth between journalism and politics. He began his career as an editorial page writer and columnist, eventually becoming the editorial page editor of the Washington Times. Later, he crossed over into politics, serving as a speechwriter in the administration of President George H.W. Bush.
In 1996, he returned to journalism serving as the first moderator of Fox's Sunday morning public affairs show, Fox News Sunday.
Over the weekend, Washington journalists and politicians lined up to pay their respects.
"Laura and I are deeply saddened by the death of our dear friend, Tony Snow," said President George W. Bush in a statement. "Our thoughts and prayers are with his wife, Jill, and their children, Kendall, Robbie and Kristi. The Snow family has lost a beloved husband and father. And America has lost a devoted public servant and a man of character."
Vice President Dick Cheney appeared in an interview on Fox News Sunday where he spoke reverently of the late Mr. Snow and fondly remembered his friend and former colleague's unwavering serenity even when facing the most daunting situations–be it, mixing it up with a roomful of aggressive White House correspondents, coping with a significant house fire, or fighting a battle with the same type of cancer that had taken his own mother's life.
"He was unfailingly optimistic and positive in his outlook," said Mr. Cheney. "He knew, obviously, that this was a situation that might well shorten his life, but he never lost his lust for living every day to the fullest extent. He never let it get him down. I never saw — when I was around him, I never saw Tony down or depressed like I think a lot of us might have been if we'd encountered the kind of health problems he did. You know, he was — relished every moment of every day."
After being diagnosed with cancer in 2005, Mr. Snow became something of a role model for others in the news business grappling with cancer, like Robin Roberts of ABC News, who was diagnosed last year with breast cancer.
"I was so privileged to do what was considered his exit interview from the White House, and Tony was one of the first people to reach out when I was diagnosed with breast cancer almost a year ago," said Ms. Roberts in a statement. "For those of us battling cancer, he was beyond inspirational. We are deeply saddened by his passing but will not forget his valiant fight and the lessons he taught us all."
His peers in Washington remembered Mr. Snow as an optimist.
"Tony Snow was a conservative," Bill Kristol wrote in the New York Times today. "But he didn't have a prejudice in favor of melancholy. His deep Christian faith combined with his natural exuberance to give him an upbeat world view. Watching him, and so admiring his remarkable strength of character in the last phase of his life, I came to wonder: Could it be that a stance of faith-grounded optimism is in fact superior to one of worldly pessimism or sophisticated fatalism?"
"It was just that attitude that allowed Tony to change the role of press secretary in the Bush White House," wrote his longtime friend Juan Williams on the Fox News Web site. "He argued the president's case with the press. He was not defensive about it. To the contrary he told me time and again that he was having a great time as Bush's press secretary. Tony got the job at a time when the Iraq war was going badly, when the President's party had lost control of both the House and the Senate, and the public approval ratings for the Bush White House were at an all-time low."
"Tony made the briefing his stage for taking President Bush's case to the press and the American people," he added. "And you should remember that before he took the job Tony was critical of President Bush, describing him as 'something of an embarrassment' among conservatives. Nonetheless, Tony was up to defend the President and make the case with his TV skills and his warm, persuasive and witty ways."
"I always thought he was a great communicator, and what people don't know about Tony is that he was a genuine intellectual," said Roger Ailes on Fox News over the weekend. "He had traveled, he understood a lot about foreign policy, he was a writer. He was a very deep thinker. On top of that, he played in a rock band, and sometimes did things you didn't expect of him. So he was a renaissance man in a sense."