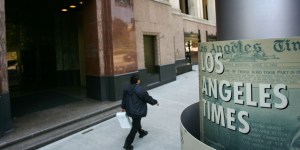 150 reporters, editors and designers at The Los Angeles Times are packing their boxes and heading home for good this week, but out of the paper's press department that's not the big news at all!
Last night, John Conroy, one of their spokesmen, sent reporters an email about a new blog the newspaper's Web site, latimes.com, is launching.
"Thought you might want to know about 'Hero Complex,' a really cool blog we're launching," he writes. "It'll be chock full of insider scoop from the world of comic books, sci fi, genre film/TV and all other heroic pursuits.
Right. Forgive us for initially thinking that "Hero Complex" was referring to Sam Zell and interim-publisher Randy Michaels…
And in other news! Tribune staffers are coming closer to revolt. The Baltimore Sun is holding a protest today; one Tribune staffer requests everyone in the company wear black. And an anti-Zell screed was taped to the the display area where the L.A. Times keeps its Pulitzers.