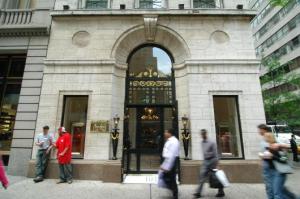 Ronald Winston, son of the founder of the eponymous Harry Winston jewelers, has sold the firm's flagship building at 718 Fifth Avenue for $62 million, according to city records.
Paramount Group, which made the purchase, is apparently on a shopping spree that would make even Harry proud. Albert Behler's Paramount is apparently snapping up 1301 Avenue of the Americas, the Credit Lyonnais Building, for a staggering $1.5 billion.
Neither Paramount Group's spokeswoman nor the spokesperson for Harry Winston could be reached for comment.