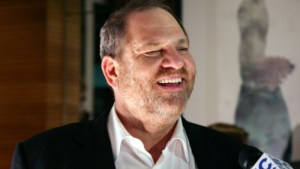 Harvey Weinstein is trying to squash rumors about The Weinstein Company's financial troubles in an interview with The Hollywood Reporter:
Weinstein said he's "bullish" about the company's current prospects.
Was that "bullish" or "bullsh.."?
"We're well financed, and every one of these new productions has been budgeted out."
He is referring to projects like Project Runway, and Quentin Tarantino's Inglorious Bastards. The Weinstein Co. recently made a new pay channel deal with Showtime and will soon be distributing all of their own films. Genius and Blockbuster are providing home video distribution and, yesterday, they made an exclusive deals with international TV casters like Sky Italia. But even Harvey admits: "It took us two and a half years to build an infrastructure." Added Bob, "It was a harder load than we thought it would be."
More from the article:
Insisted one Wall Street observer, "They are running relatively low on capital right now," though he quickly added that "their house is getting in order." Pointing to a precipitous drop in the stock of Genius Products — the Weinstein Co. has a 70% stake in Genius' home video company — Merriman Curhan Ford & Co. analyst Eric Wold said, "What's impacted the Genius stock since last November, when it started a freefall from $2.50 down to 20 cents a share, has been fear about the Weinsteins' financial situation."
"Nonsense" is Harvey Weinstein's response to such aspersions. "People have been writing negative stuff about us for the longest time, and it never pans out."
…
With the Weinstein Co.'s other operations settling into place, could this be the year Harvey Weinstein stages a major return to the Oscar battleground?
Several titles pose that possibility, among them Woody Allen's romantic comedy "Vicky Cristina Barcelona," which drew warm applause at Cannes, and Dimension's "The Road," starring Viggo Mortensen. Two others, however, may not be completed in time: Mikael Hafstrom's "Shanghai," starring John Cusack, from the Weinstein Co. Asian Film Fund, and Stephen Daldry's "The Reader," starring Kate Winslet.
"We'll just have to go ahead and do what we do," said Harvey Weinstein. "So we will be in the race."