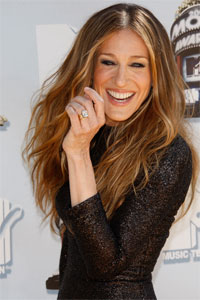 The Sarah Jessica Parker-backed reality show that promised to be the Project Runway of the art world has finally been picked up by Bravo, according to The Hollywood Reporter.
America Artist is an hour-long art competition show in which contestants compete in front of judges—start guessing names!—to draw, paint, sculpt, and hopefully do some performance art until a winner is chosen. (Then all they have to do is go on to have a successful career in the art world.)
The show was created by Ms. Parker's production company, Pretty Matches, that she runs with partner Alison Benson, and The Magical Elves, better known as Dan Cutforth and Jane Lipsitz, whose credits include Bravo's Project Runway, Top Chef, and Top Design.
The show was shopped around earlier this year, but it wasn't until Bravo lost Project Runway to Lifetime that Bravo decided to give it a go.
The network is expected to announce the deal on Sunday at the Television Critics Association press tour.