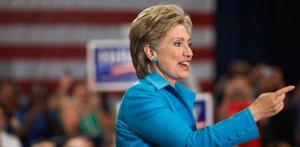 A reader loyal to Hillary Clinton points out that of the roughly 300 Hillraisers who bundled money for her, it appears only a few gave money to Barack Obama or the D.N.C. in June, according to the F.E.C. filing.
Giving to Obama's Victory Fund were Mark Aronchick, Clarence Avant, John Emerson, John Graham, Chad Griffin, Marc Nathanson. Contributors to the D.N.C. included Rashid Chaudhary, Gary Gensler, Ambassador Arthur Schechter and Maureen White.
Other Clinton donors subsequently have given to Obama, and bundled a lot of money for him too. But the paucity of names so far illustrates how slow-going the unity efforts have been.