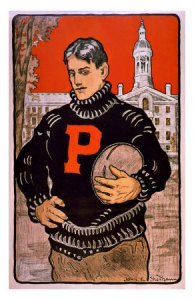 Maybe there's another reason Barack Obama decided to deliver his convention acceptance speech in a football stadium. As Howard Mortman points out this morning, Obama's August 28 address will coincide with the start of the college football season, with at least four nationally televised games on the docket.
Sure, most of the games scheduled are of regional interest at best, involving middling Division I-A schools and even I-AA teams, and the kickoff times for most of the televised games are early enough to allow viewers to flip over to Obama' speech (which will probably start around (10 p.m.) without missing any of the gridiron action.
But this is a political blog, and there's nothing the political media likes better than to hype specious factors and warn of the significant impact they could have on the presidential race. With that in mind, let's look closer at the August 28 college football schedule and consider how each game could prove to be the Ralph Nader of 2008.
North Carolina State at South Carolina (7 p.m., ESPN): Sure, these two teams were a combined 11-13 last year and neither qualified for a bowl. But they're both improving and it's a border war, so expect high viewership in both states – potentially creating a problem for Obama, since he has hopes of snagging North Carolina's 15 electoral votes. And what if Lou Holtz, who once coached both South Carolina and N.C. State, decides to deliver one of his famous pep talks to fire up one of his old teams a few days before the game? Surely, such an action would only enflame tensions between the schools, further ratcheting up the ratings.
Vanderbilt at Miami (Ohio) (6:30, ESPN-U): O.K., so almost no one gets ESPN-U in their homes, and neither Vandy, which last qualified for a bowl in 1982, nor Miami, which plays in the non-BCS Mid-American Conference, is a ratings magnet. But look closer. It's almost unheard of for a team from the powerful SEC to agree to play on the road against a small conference school. This will be the athletic event of the year in the Greater Miami area – and the Greater Miami area just so happens to be smack in the middle of west-central Ohio, a pivotal region in one of the premier battleground states. Should this game go to three or four overtimes – thus pushing it past 10 p.m. – Red Hawk partisans will almost certainly shun Obama's speech, thus severely complicating the Democrat's efforts to win them over.
Wake Forest at Baylor (7, FSN): Yeah, yeah, FSN typically draws unappealing college football match-ups that attract paltry audiences, and this looks like another one of them. Baylor is a perennial Big-12 cellar dweller (and is only in the conference because of the insistence of then-Governor Ann Richards back in 1994), and Wake Forest, one of the ACC's smallest schools, has a limited fan base. But on top of the N.C. State-South Carolina game (and the potential Lou Holtz pep talk!), is the presence of another North Carolina-based team on television just too much for Obama to overcome? After all, for Obama to win North Carolina, he'll need to fare well in Winston-Salem, where Wake is based, and make inroads in the Republican areas that surround it. That task will be infinitely tougher if come 10 o'clock on August 28 those voters are instead focused on a nail-biter in Waco. Really, shouldn't the Obama campaign, which can raise and spend unlimited money, have paid the N.C. State and Wake Forest athletic departments to reschedule these games?
Oregon State at Stanford (8, ESPN2): So far, the news out of Oregon has been mostly good for Obama, who has opened a solid lead in polls there. But can he survive this? Oregon State, a football doormat until coach Mike Riley arrived in the mid-90's, has a rabid fan base and is poised to contend for the Pac-10 title and its first BCS bowl since 2000. Expect those fans to be glued to their sets for the season-opener against Jim Harbaugh's Cardinal. A secondary factor: How many Beaver fans will make the not-too-long drive down to Palo Alto to watch the proceedings in person? And with an 8 p.m. kickoff, this one is guaranteed to run clear through Obama's Denver speech. John McCain, by contrast, will have Oregon's undivided attention the following Thursday when he delivers his own speech. Could Oregon be on its way back to swing-state status? Really, there's no excuse for this scheduling conflict on Obama's part: He has a connection in Oregon State's athletic department.