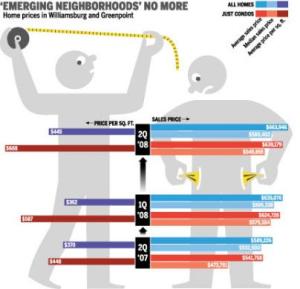 The Financial Times' Jeremy Lemer parachutes into Long Island City and relays the massive changes in the neighborhood back to the folks in Europe.
Interestingly, he weaves how government actions, particularly zoning changes, helped spur LIC's rapid development:
In 1981 it was zoned as a mixed use district. Then, as now, Romanesque Revival terraced houses stood cheek-by-jowl with factories – home to builders' yards, elevator repair companies and printing shops. …
Zoning changes have, belatedly, had rapid and far reaching effects. Inland, a 2004 rezoning has transformed the Hunters Point mixed-use area by allowing industrial sites to be converted to residential uses. "The rezoning made a lot of millionaires," says [property broker Andrew] Fine.
I wrote in last week's Observer about how a large rezoning in Williamsburg and Greenpoint spurred not only rapid residential development, but also recent home-price jumps (see chart above).